Should You Blur Your Face In Escort Photos?
Should You Blur Your Face In Your Escort Ad Photos?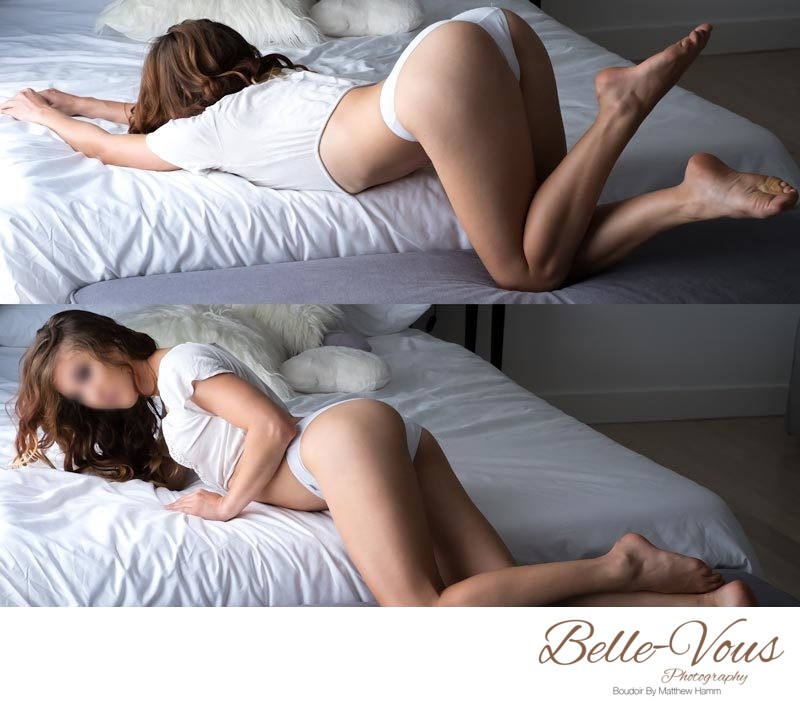 Should I show my face or not? This is the question every escort must answer before posting photos online and being an escort photographer it's a question I've been wondering myself.
Blurring or hiding your face is completely up to you; it's personal preference. You'll need to ask yourself before posting photos online do you mind if your friends, family or colleagues from other jobs recognise you or not. If maintaining your privacy is important to you then it's best to blur or hide your face in your escort photos. The biggest thing most people don't realise once a photo is online you have to expected to be online forever. Will you be ok with your escort photos still being available and findable online even after when you have retired from escorting?
I'm all for keeping identities safe and respect people's wants and needs to stay anonymous in this line of work. Maybe you only escort a few weeks a year and have another job that could be put at risk if people found out about your escorting side hustle or maybe you just value your anonymity. But I think there is a better way to hide your face than just blurring out all your identifying facial features.
First, here are some pros and cons of face blurring. Your photos connected you to your clients. Your photos are what potential customers see first as well the last thing they see when browsing escort directories. I have some anecdotal evidence from escorts I have worked with in the past. Most had said when they started showing more their faces they got more bookings and be able to charge more for their services than when they had their faces completely blurred out.
I think the reason for this is we are visual creatures, and your clients want to see you, build a connection with you and fantasise being with you before they call and meet you. Completely blurring or cropping out your head pretty much turns you into a piece of lifeless meat. This might sound a bit brutal but what are they going to be looking at and making a deeper emotional connection with? Your tits, ass, legs? Being able to put a face to the person in the photo humanises you and this it will make it easier for your client to make an emotional connection with you through your photos. Combined with a well-written bio this should give you the best opportunity to get them to book a meeting with you.
If you have an amazing young supermodel body, this might be all you need to be able to fill your schedule with bookings. But you will still probably fewer calls than someone with a similar level of attractiveness that is showing her face even if it's just a tiny little bit like eyes or lips.
Here Are Some Tips To Help Keep Your Identity Safe In Your Photos
The first thing to do is find a photographer the specialises in taking escort portfolios and tell them at the beginning you want or don't want your face to be shown. Regular glamour and boudoir photographers won't be thinking if you want your face shown or not. Years ago when I mostly only booked for bridal boudoir, I got a booking from an escort. She had a lovely bubbly personally, and she was smiling and laughing during the whole photo shoot. I took advantage of this and shot tons of beautiful photos with her face in the frame. It wasn't until her viewing session she told me she was an escort and was doing the shoot to update her online ads and she wanted the photos with her face shown to be blurred. I understood why she wanted to blur her face but I wish she had told me in the in the beginning and I would have used my creativity to shoot around that limitation. If I had known we wouldn't have to do any burring or only very little. I could have still communicated some that fun bubbly emotion she showed during her shoot.
Ways I Can Hide Your Face Without Going Over The Top With The Blurring
If you want your face hidden what's the point of staring directly at the camera in every photo? If I know, beforehand I will guide you into poses that are full of mystery, mood while also flattering your best features while maintaining your anonymity. There are so many mysterious and sexy ways I can hide your face in photos. So many I rarely use the same pose twice. Just off the top of my head we could use a sexy lace mask that covers the top half of your face, If we taking outside photos sunglasses would work, placing your hand over your face in a mysterious and seductive way, Holding a prop, so it's covering your face like a camera, hat or hand fan, Using your long hair to hide your face, these are just a few I thought of super quickly. Possibilities are endless. The only thing that limits us is our creativity during the photo shoot.
If I do take some photos of your face depending on the pose, sometimes full face blurring is not required. Maybe we only need to blur your eyes or lips. Doing this should help the client make an emotional connection to you because they can see your smile or emotion in your eyes.
Blurred Or Not Blurred The Most Important Thing When it Comes To Your Photos Is:
Don't let your gallery go stale. The more curious your clients are, the more likely they are to call you. Keep your galleries fresh with new images don't let your galleries for more than a month without updates. Constantly rotate images in and out and experiment with which ones lead to the most enquiries. The photos you love most necessarily won't be the ones your clients love most. When you book a shoot with me, you don't just get a limited number edited photos you also get all of the unedited photos from the shoot. This will help your experiment and work out what style photos work best for you. So when the time comes for your next photo shoot with me, we can really focus on the poses, style and mood that really resonates with your clients.
---
Copyright All rights reserved © 2014 - 2023 Matthew Hamm | Belle-Vous Photography
4 Fryer Close Bellbowrie 4070 QLD Australia
Brisbane | Sunshine Coast | Gold Coast | Toowoomba | Ipswich
Privacy Policy | Safe Space Policy | Terms and Conditions | Feedback
Should You Blur Your Face In Escort Photos?