What is Boudoir Photography
What is Boudoir Photography?
(From Start to Finish)
Learn what really happens during a boudoir photoshoot. If you have any questions about boudoir photography, I'm going to answer them all in this article. You will see that boudoir photography is not at intimidating as you first imagined.
"People often say that beauty is in the eye of the beholder. And I say that the most liberating thing about beauty is realising that you are the beholder."

– Salma Hayek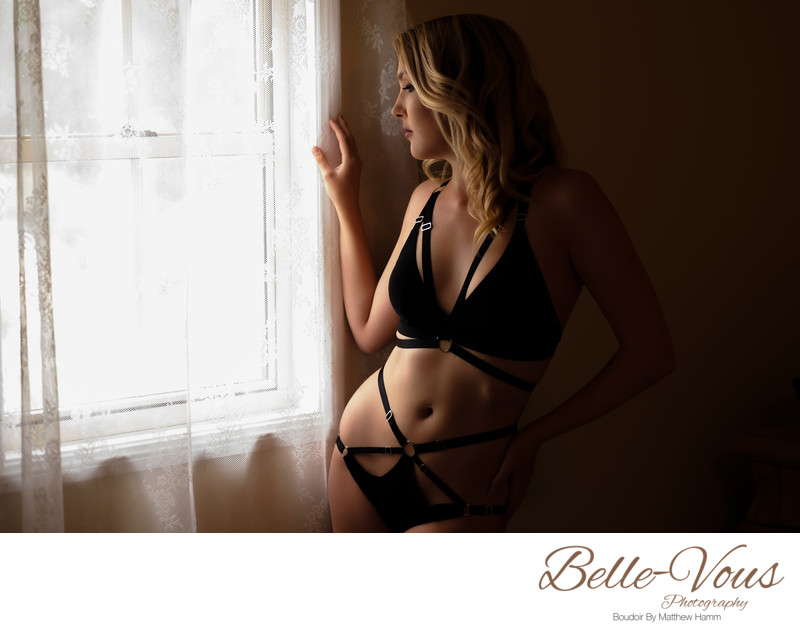 What Is A Boudoir?
Let's start off with the term Boudoir. It's a late 18th century French word. Now in the 21st century, it may not mean much to you. Back then, a boudoir was a private space intended for the lady of the château. She would use the boudoir for intimate conversations with other ladies, touch up makeup, change clothes or just spend time by herself away from anyone else.
In the late 90s, it shifted to also be the identifying moniker for intimate lifestyle photography.
What Is Boudoir Photography?
You have heard boudoir photography called by many different names, from "intimate lifestyle photography" to "erotic lingerie photos". At the end of the day, they all mean the same thing. For me, boudoir photography is all about learning to believe in your beauty and finding the confidence to flaunt it! You will also discover the small things that make you so beautifully uniquely. Your boudoir photos will capture the secret little things that make people fall for you.
Boudoir photography is almost always set in a bedroom or other private setting. Although this is not always the case more often in the last few years, outdoor locations have become more common.
These shoots are intended to radiate sensuality and are intimate in nature. That's why lingerie is usually worn and pose seductively to declare ownership over her own sexuality. Unlike other genres like fashion and glamour, professional models are not often used. Everyday women that do a boudoir photoshoot are on a journey of self-discovery or need self-confidence boost, a boudoir session could be the very thing you need.
How to pose for boudoir photography?
The great thing about working with a professional photographer you won't have to worry about how to pose for boudoir photography. Before we start, I'll ask you a few questions like "Do you have any areas you would like me to de-emphasize" or "Do you have a preferred side of your face you like in photos?" From these simple questions and ones like them. I can also help direct you in poses that accentuate your curves and capture your perfect posture. If you end up having a little trouble with a particular pose, I'll jump in and demonstrate it for you. Which usually ends with a ton of laughter. Being a male photographer, it can be pretty funny watching me do feminine poses.
Examples of bed poses
Nothing says boudoir photography more than the photo of a woman in lingerie on a bed. It's the cornerstone boudoir poses.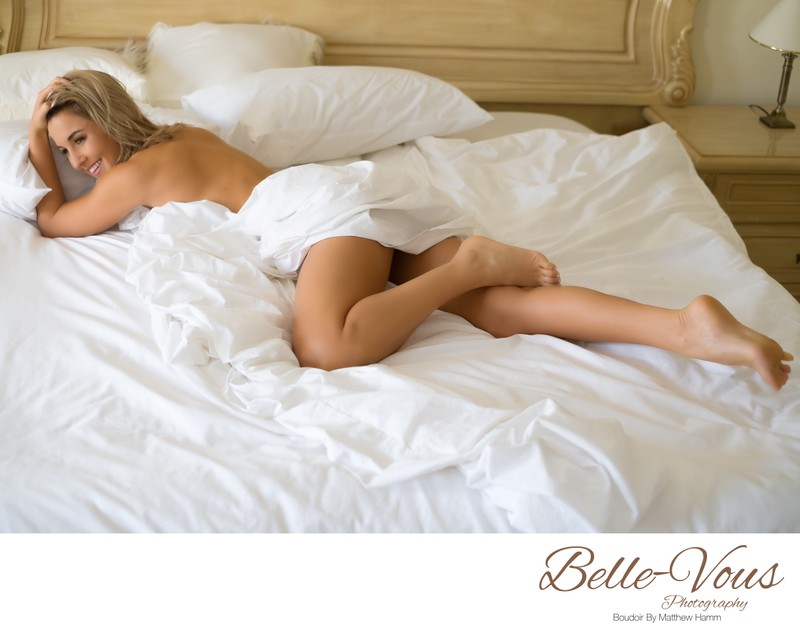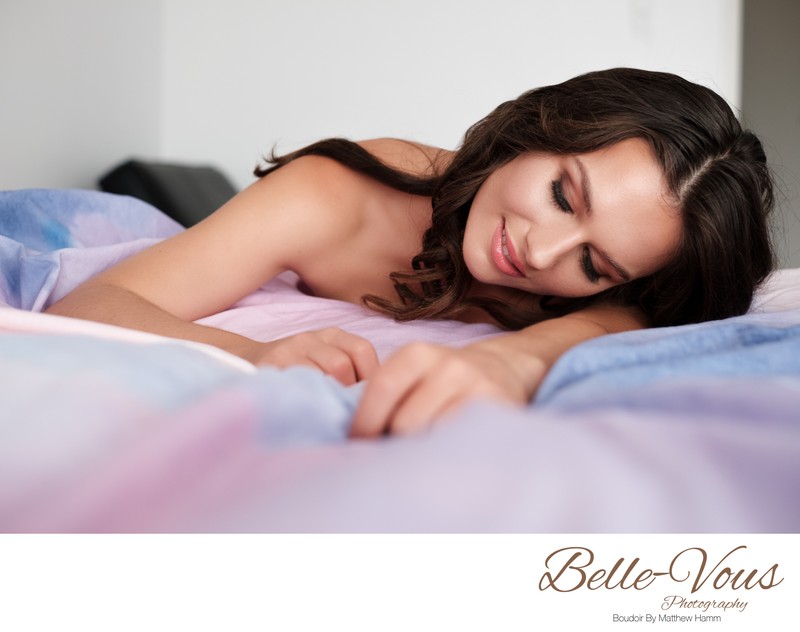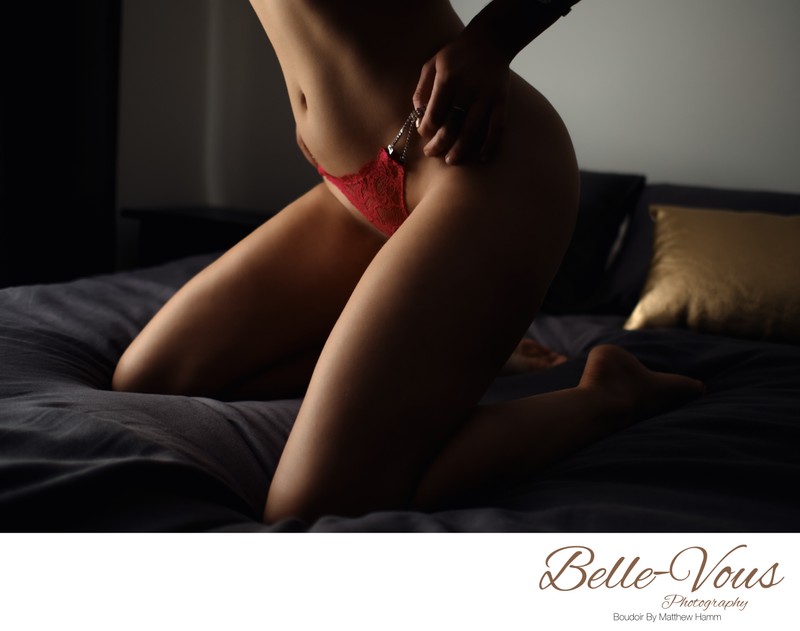 Examples of chair and lounge poses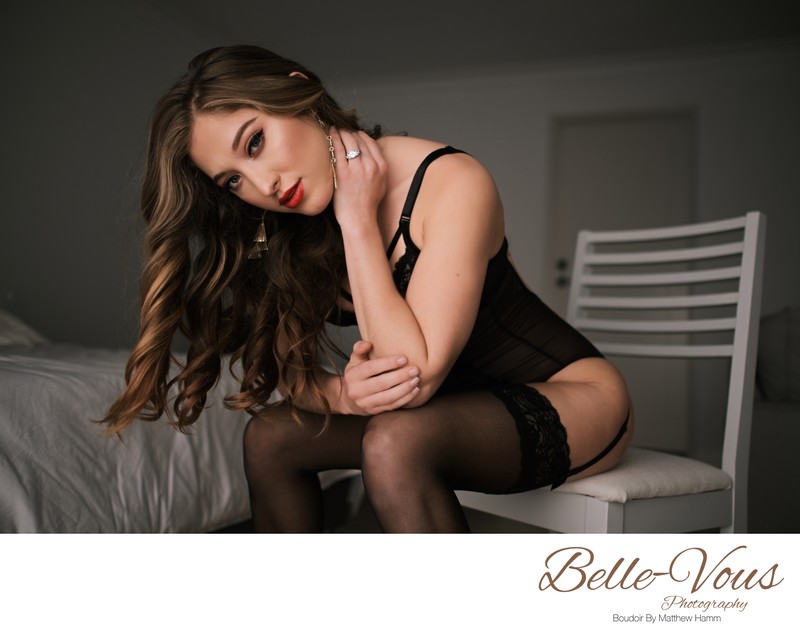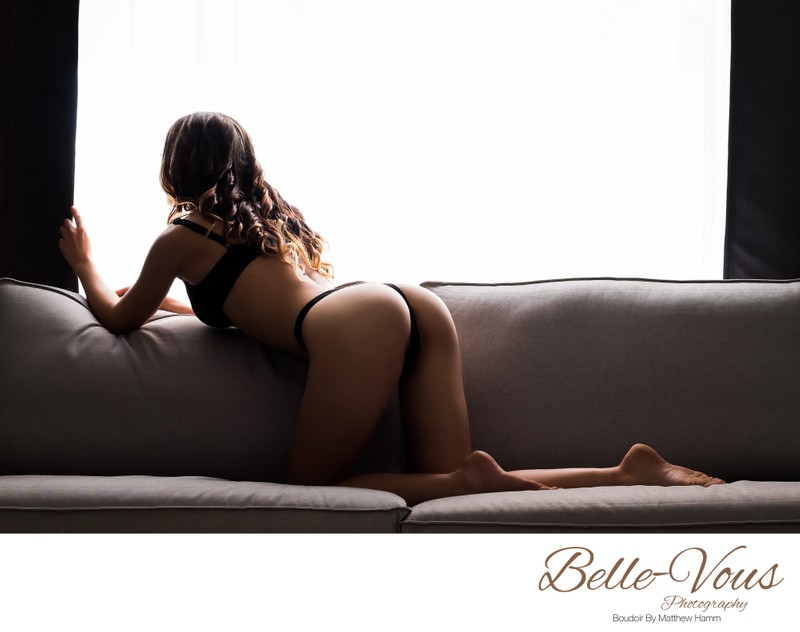 examples of floor poses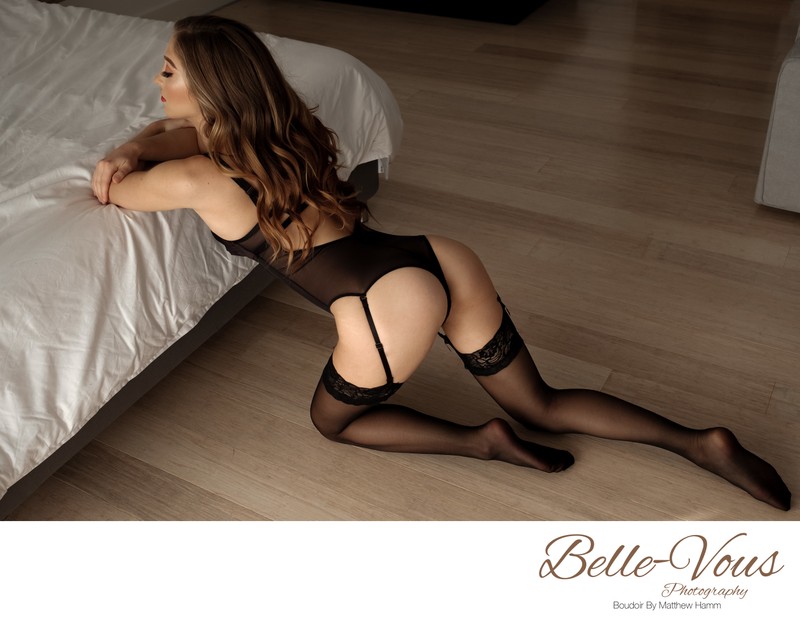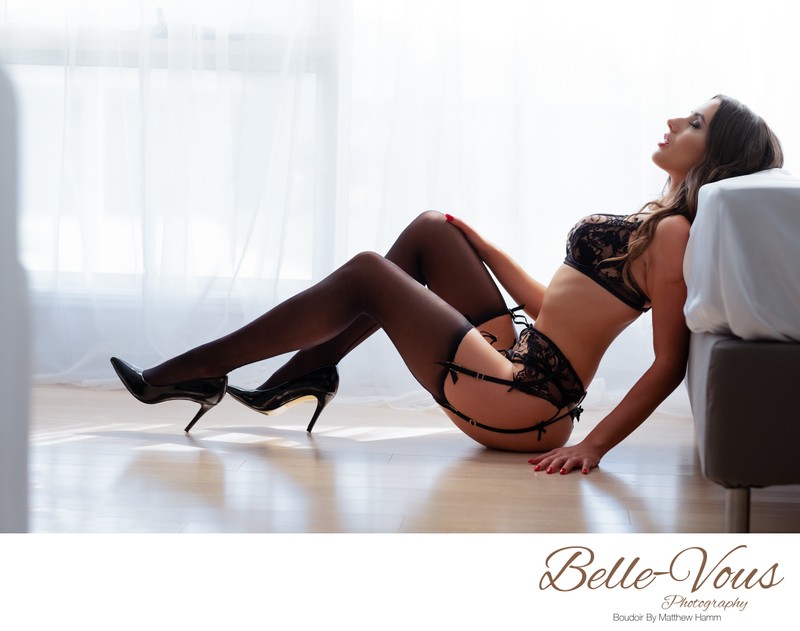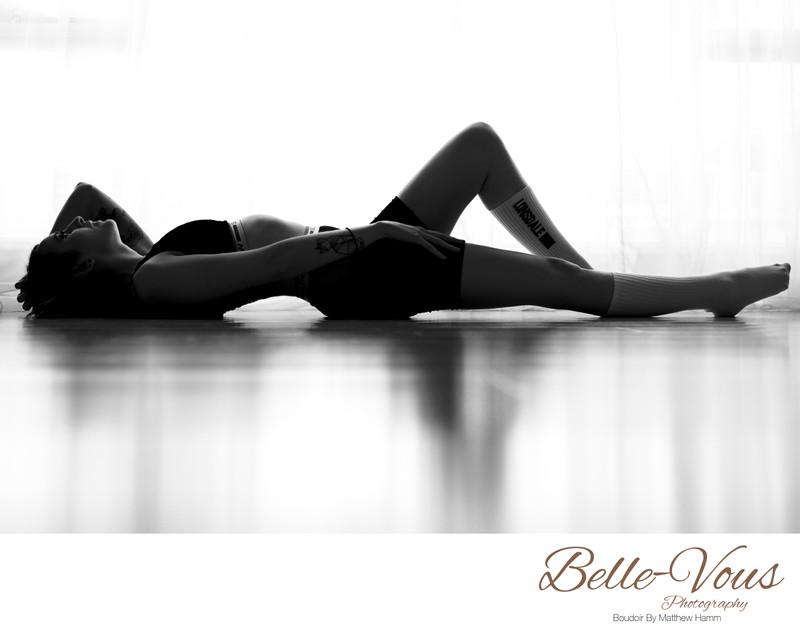 examples of standing poses
---
What Style Of Makeup Is Best For boudoir?
| | |
| --- | --- |
| Makeup for photoshoot will be slightly heavier than your day-to-day natural look application, and boudoir is usually even heavier than that. It's understandable to think it will look unnatural. When going from your daily makeup to a more heavy application meant for photography. However, boudoir makeup is designed to accentuate your features that can get lost in photos, like your eyes, lips, cheeks and jawline, etc. My professional makeup artist will take your features, studio lighting, your comfort level into consideration when finding the perfect look for you. | |
There are many different styles of makeup that work best for boudoir.
The makeup styles most women choose are "High Glamour" and "Natural Makeup" or somewhere in-between those two.
| | |
| --- | --- |
| The "High Glamour" look is also known as the old Hollywood look. It was the style that Hollywood celebrities would wear during the golden age of cinema, the 1940s and 1950s. This style is very loud due to the bright colours used. | |
| The "Natural" look is not wearing no makeup at all. It's great if you want your makeup to look more subtle, like you're not wearing any makeup at all. The primary purpose of natural makeup is to enhance your features without the loud colours. | |
Do I Have To Be Nude For Boudoir Photography?
It's not easy to talk about nudity in photography without discussing the tremendous harm advertising and the media have done to how we view a healthy or normal body image. Boudoir photographers use the term "Body Positivity" a lot. The goal of all boudoir photographers is to reshape how people view themselves and learn to love themselves. The real skill of boudoir photographers is making safe spaces for our clients to come into and helping them experience the empowering vulnerability without any judgement.
You do not have to be nude for boudoir photography. Although most women who book photoshoots with me want at least one or two nude photos. When taking these nude photos, I take a lot of inspiration from low-key photography. Low-key photography is dominated by dark and black tones in the shadows. While using minimal light to highlight the edges of the body.
Why Is Boudoir Photography Taboo?
I have noticed the more boudoir sessions I do. The more often women request even more intimate styled photography. Which, I'm proud that I'm able to give these women safe space for them to view themselves positive light. I also noticed something else. I was getting more people approaching me saying, "why are your photos so pornographic?" Or "you should stop over sexualising the women in your photos." I first thought I was getting these comments because I'm a male shooting boudoir. But female boudoir photographers confessed to me that they too had endured similar or even worse for their art. The more comments I get like these, the more committed I become to helping change peoples minds on how they view women's bodies.
The mission of my boudoir photography is to help bring out the confidence in women. and get them started on the journey of embracing their sexuality. Boudoir photography truly is a life-changing art form and hopefully, given enough time we can change how society views the female body. and show it how harmful it has been to women's self-confidence, body image and mental health.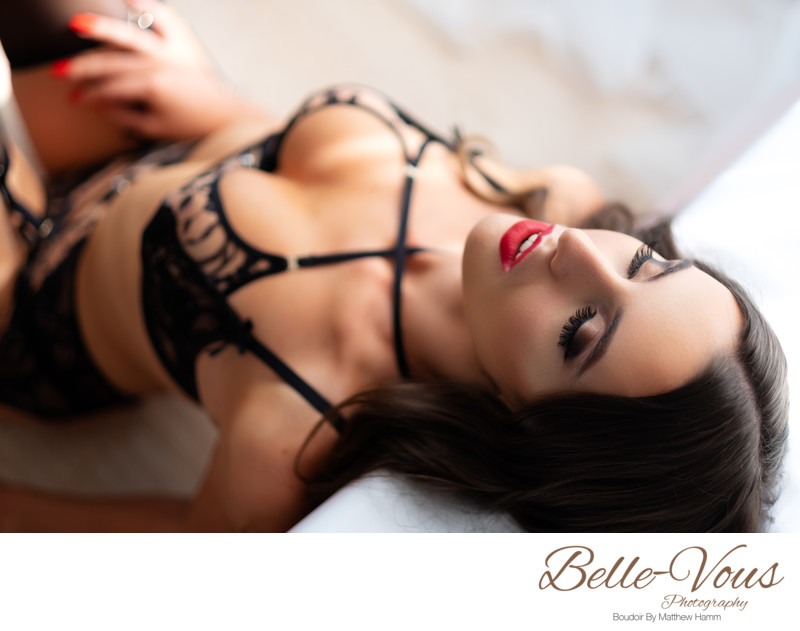 ---
Copyright All rights reserved © 2014 - 2023 Matthew Hamm | Belle-Vous Photography
4 Fryer Close Bellbowrie 4070 QLD Australia
Brisbane | Sunshine Coast | Gold Coast | Toowoomba | Ipswich
Privacy Policy | Safe Space Policy | Terms and Conditions | Feedback