Answers to the boudoir questions you're too embarrassed to ask
I get it! just the act of finding a photographer can be embarrassing. Looking through countless photographer gallery's of someone's else's boudoir session trying to find a style you love. All while on your launch break and at the same time you're trying your best to hide your phone screen from prying eyes so your co-workers don't think you're some weirdo. I've heard plenty of embarrassing stories of women opening Instagram while on the train to work and having their feeds full of half naked women, because they stated following their favourite local boudoir photographers. Once you have found your photographer (hopefully me😉) it doesn't end. You have all these embarrassing sounding questions about how it all works.
I have a FAQ that answers most of the common questions you may have before contacting me.
Now on the good stuff haha. These are the questions that would make anyone blush, but I bet you want to hear the answers. These are part of the typical day to day business of being a boudoir photographer, I've been in business long enough to heard it all. Please don't hesitate asking any questions that are not covered here. There is no judgement here.
What if I'm on my period?
Your Aunt Flo will not interfere with your boudoir photography session. I would, however, recommend using tampons over pads, for the pretty obvious reason. Sheer lingerie and pads don't play well together. You know your body! If you feel you can not enjoy your session due to having a heavy or painful day. I'm more than happy to reschedule.
How much grooming are most women doing down there?
How much grooming you do is entirely up to you! Most women go for the smooth clean skin look. I would recommend shaving or waxing any skin that won't be covered, arms, legs and down there. Before deciding on where to remove hair, It's important to try on your lingerie to see if any unwanted hairs are popping out or are visible through sheer fabric. The two most popular styles most women pick for their boudoir session is The Landing Strip and The Brazilian. If you are wanting booty shots I would highly recommend waxing those cheeks. The light has a funny way of highlighting every single hair. You may not think you've got hairs on your cheeks. However, you do.
If you have sensitive skin it would be best to wax around one week before your shoot. Just to give your skin time to heal. Most importantly, it's your body, and I won't judge you on how you want to look. If you're going to rock au naturel, go for it! Do want makes you happy and feel sexy!
I'm a lady in public but a freak in bed, can you capture my inner Freak?
Yes! Let's go for it! You'll find no judgement here. I want to help you celebrate your sexy. Do you have stilettos, ropes, whips, chains, school uniforms, Yes? Well hell, I'm not here to judge. Bring them with you! This is your boudoir session; we'll do it your way.
Can you make me look more attractive?
Yes, But the secret is you already are a total smokeshow! You may not believe me now, but after your session I guarantee you will and I won't do it via fake over manipulation in photoshop. That's the biggest sin a boudoir photographer can do. You are sexy just as you are. I'm going to make you look smoking hot via posing and wardrobe selection. I will, however, need your help. Before your boudoir session, we will discuss what you love and what you are less in love with about your body.
Will I need to be completely naked?
No! Getting completely naked or even implied nudity is NOT mandatory for my boudoir sessions. You'll never need to be naked, only if you want to. It's totally up to you! Boudoir photography is not synonymous with nude photography. If you do choose too go nude, I'm okay with you bearing it all in a non sexually explicit way. Have a read of this: Are Nude Boudoir Photos Sexy? To learn more about how I photography nude boudoir.
How often do you change the bedding? I feel weird touching things someone else's nude body has been rubbing against.
I totally get this. I feel weird sleeping in any bed that's not my own. After every shoot I wash all the bedding on the most hardcore wash cycle my washing machine has, It's a 7hr wash cycle 😮 and I buy new sheet sets and doona covers every six months. Also I don't do nude shots wrapped in the communal sheepskin. I call it communal because you can't really launder sheepskin. I bet you don't want touch it after hearing 100s have rubbed their naked lady-asses against that same sheepskin.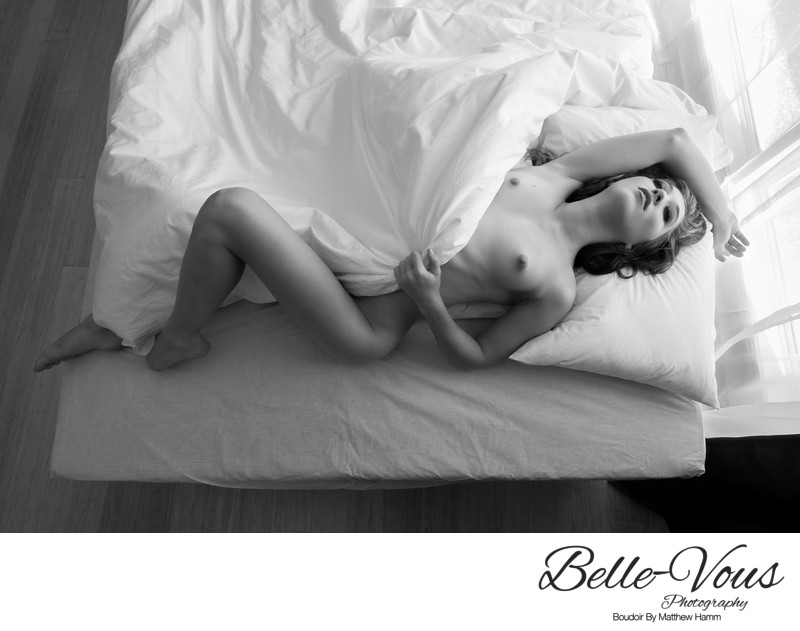 Do you have any embarrassing questions? Please don't hesitate to reach out! I'm here to help you with your boudoir journey.
---
Copyright All rights reserved © 2014 - 2023 Matthew Hamm | Belle-Vous Photography
4 Fryer Close Bellbowrie 4070 QLD Australia
Brisbane | Sunshine Coast | Gold Coast | Toowoomba | Ipswich
Privacy Policy | Safe Space Policy | Terms and Conditions | Feedback