Ultimate Bridal Boudoir Guide
The Ultimate Bridal Boudoir Guide
Everything you want to know before booking your session
Congratulations something big just happened!!! The love of your life just popped the question and you said YES!!! You couldn't be happier than you are right now, but now some huge decisions need to be made before the big wedding day. Planning your bridal boudoir photo shoot is only one of the many things you need to think about and organise before your big day.
This is my complete guide to bridal boudoir I start with answering the question "what is bridal boudoir" and end with "creative ways to surprise your groom with your photos" and I also cover everything in between. Planning all the things that are involved in a wedding can make even the most organised persons head spin. My guide will give you tips and advice on planning your bridal boudoir photo shoot and hopefully I can take some stress out of planning your wedding. And don't worry if your not interested in bridal boudoir style photo shoot most of the information here is still relevant to other styles of boudoir.
Ok ladies go make yourself a cup of coffee (or two), grab a notepad and pen and get ready to learn everything you ever wanted to know about bridal boudoir photography. Oh and don't forget to bookmark this guide so it's easier to find again if you ever need it for future reference. If you have any questions that are not answered in this guide feel free to ask your questions via the comments below or via my contact me page. I'm always happy to help! I'll keep updating this guide with any new questions I get
Guide Written by: About Matthew, Photographer at Belle-Vous Photography.
What is wedding bridal boudoir?
If you are reading this, you have probably already heard of bridal boudoir from your friends or family, or maybe you stumbled across it while browsing wedding sites or Pinterest for inspiration for your wedding. Maybe you kept seeing photos of gorgeous women in their wedding lingerie? And you wanted to know why these women were having their photos taken in their very intimate wedding lingerie? It might surprise you that women that book bridal boudoir sessions with me are not models; they are normal everyday women just like yourself. School teachers, businesswomen and stay at home mums. Boudoir photography has gotten very popular over the last few years with women from all walks of life a booking bridal boudoir sessions and giving albums full of sexy photos their soon to be husbands on their wedding day or night. Bridal boudoir is reserved just for you and your husband's eyes. The photos are usually fun and sexy gift given to your husband on your wedding day.
Why have bridal boudoir photos taken at all?
1. You look amazing right now
Being engaged is an amazing transitional time in any woman's life. You're riding high on life and the love for your fiancé. You are marrying the person of your dreams, Life can not get better for you at this moment in time and the people are noticing how happy you are. You have probably noticed you are receiving more positive comments on your appearance and attitude to life since your engagement.
Even if you don't believe it, your skin is glowing with natural beauty and happiness. There is no better time to capture your natural beauty.
2. It will be a ton of fun and deserve it.
Planning a wedding can be super stressful. A boudoir session gives you the time to unwind and relax and have fun. Sit back enjoy a makeover by my professional make-up artist while sipping on some bubbly. You can even make it a girl's day out by inviting your Bridesmaids and you can have your own cheer squad boosting the fun factor even more!
3. Show off your hard work.
I bet you have been dieting, working out? Trying to get lose a few kilos so you can fit into a size or two smaller wedding dress. Show of your hard work and document how hot you are looking right now
4. It is a great wedding day gift for your groom.
He thinks you are beautiful even on your worst days. Just imagine the look on his face when you give him an album full of smoking hot photos of the woman of his dreams, YOU!.
5. It's a great gift for you.
A boudoir shoot will let you embrace side of yourself you rarely see. Seeing yourself under a different light can give yourself a massive self esteem boost and getting treated like a supermodel for a day is great therapy for anyone. In the final photos I will see a beautiful and empowered woman looking back at you. Guess what this he how sees you everyday of the week.
6. Shopping
Might sound cliché but if you rarely go shopping for sexy lingerie. Shopping for your photo shoot can be almost as fun as the photo shoot. Go grab your bridesmaids and make shopping for your lingerie a Girl's Day Out. Shopping with your wedding cheer squad can be a great way to received some instant feedback on outfits and can help you step out of your comfort zone when it comes to outfits.
7. Saving those precious wedding memories
In 20 years your future self will thank your past self for capturing this special time in your life. In life you always regret what you didn't do and not what you did do.
Styles of boudoir photography
Your session doesn't just have to be bridal themed. It common for me to also shoot something a bit different during the same session. Think of it this way the bridal photos are for his eyes the the other style is for you.

Pinup
When you hear pinup and you do think about cheesy photos from the 1940s? Think again! Modern pinup looks very contemporary and is heavily influenced by modern boudoir photography. Pinup focus on your sexy curves, much more than regular boudoir. The outfits are usually body forming and don't hide your curves. Makeup for pinup is glamorous and sexy with smokey eyes with long lashes and usually deep red lips.
Modern
Modern boudoir is all about embracing all body types and loving who you are. The poses usually look less forced than the poses used in pinup and the final photos have a much more intimate and casual feeling about them.

Glamour
Glamour boudoir sits in the middle of pinup and modern boudoir. It has a little bit of both. Glamorous makeup and hair with the more casual poses. Glamour also has more of an focus on your face with close-ups showing off the makeup and the shape of your face.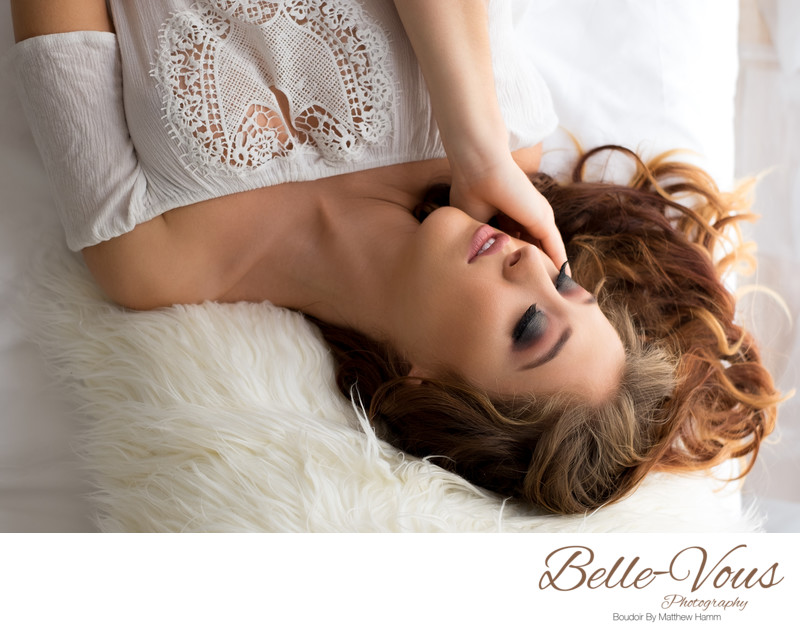 Fitness
Fitness boudoir is one of the styles that has been growing in popularity in recent years. It makes sense why. You spend months or maybe even years getting fit. Once you reach your fitness goal you want to celebrate you hot new bod and a boudoir photo shoot is perfect for that. Fitness boudoir focuses on your toned body like your abs, arms, legs and butt.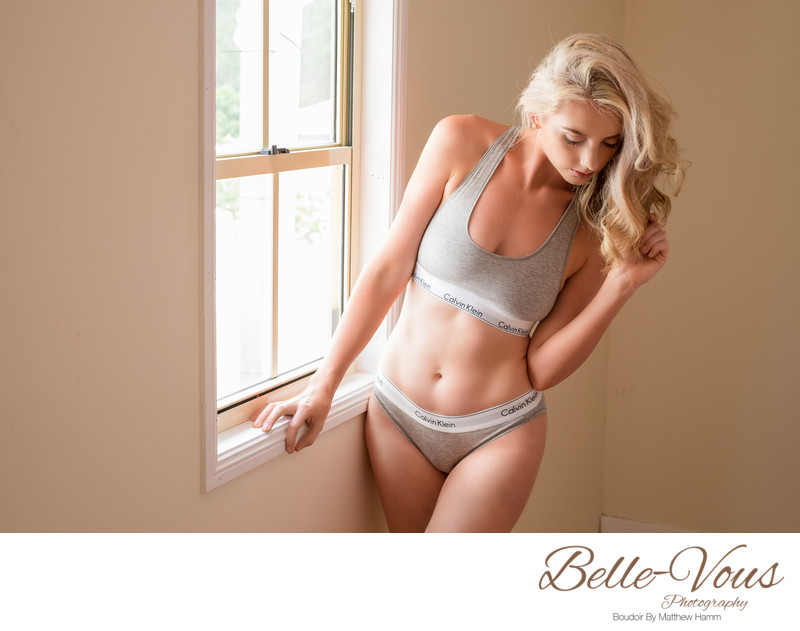 Fashion
Fashion styled boudoir take a lot of Influence from lingerie fashion photos like the ones you see in lingerie catalogues and advertising. The focus of these photo are more on the outfits than on you. This style looks really great if you have crazy elaborate outfit that really draws attention to itself.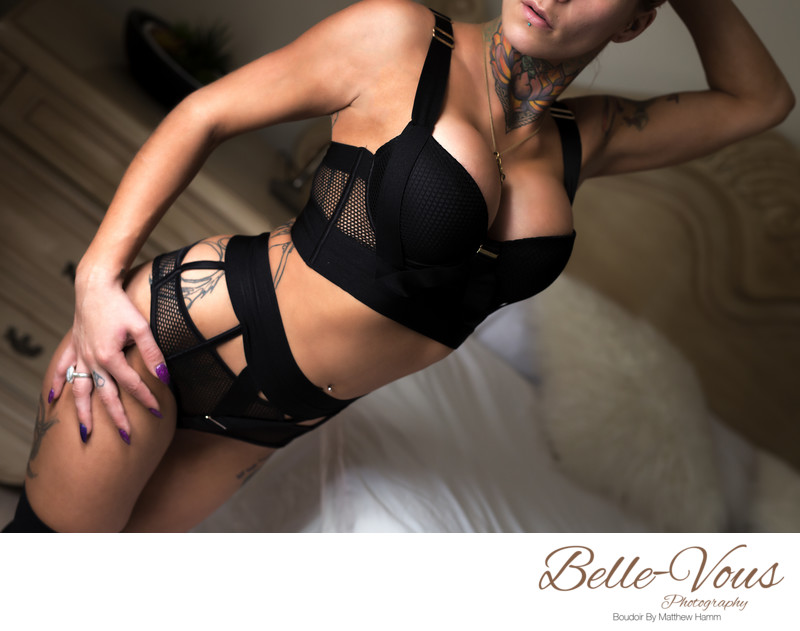 Finding your photographer
There are countless things to consider when choosing your bridal boudoir photographer. Like what products do they offer how much do they cost. Do you like their style of photography or do they a studio. Do they shoot at different locations like hotels or your own home.
I would love if I was your photographer, but doing your own research is the best thing you can do when searching for the right photographer for you. Google for boudoir photographer in your area. Look at their galleries and see if their style fits with you are hoping to get and make a list of those photographers to contact. Because this style of photography is very intimate It becoming more common for photographers to offer a free consultation to meet the photographer in person and ask every question you might have. During the consultation the photographer will give you a idea of how to best plan and prepare for a photo shoot with them. Please don't leave anything up to chance.Sit down with your photographer and tell us what you want and don't leave until every question you have about the photo shoot has been answered!!
What boudoir gifts are available for purchase.
Before you decide on what products you want, think about how you want to present your boudoir photos to your husband to be. Here are a few of the products I have available here at Belle-Vous Photography. Giving your groom I little black album usually the norm but it's not the only option available.
1. Albums
I always recommend brides give her man a boudoir album. My Little black book is the classic and timeless intimate gift to give you a groom on your wedding day
2. Prints
Buy a few small prints and keep them is keepsake box and when your husband goes on a business trip sneak one into his luggage. One of my favourite stories I've heard from a past client is how she surprised her husband with her photos. She ordered 50 wallet size prints and numbered from 1 to 50 and hid them around the house on their wedding day and didn't tell him about them. For months afterwards he was finding these secret little hidden photos.
3. Digital images
Technology is moving so fast now a days. It wasn't that long ago that giving USB drives with photos on them was a novel and cool idea. But increasingly my clients don't have private access to computers any more. Which can be a problem if the only way you can view your boudoir photos is on a work or shared computer. Instead of giving you a USB I now design custom phone and tablet gallery app, so now I can send your photos privately and directly to your phone or tablet.
4. Canvas
Canvas prints are a great option if you already have a lot of artistic pieces of art hanging on your walls. Adding a boudoir canvas print to you art collection add a great personal touch to the art on the homes walls.
5. Retroviewer
Probably my the favourite product I sell is the retroviewer. Nothing will fill your husband to be with childlike glee like one of these retroviewers with reels of photos of the one he loves most.
How to budget for your bridal boudoir session.
1. How much do bridal boudoir session usually cost
There are a wide range of boudoir photographers out there and they all with different options and packages available. These packages can cost upward to $3000 to over $5000 for the really big packages these big packages will usually include a massive album filled with photos and big canvas or framed prints. The cheaper packages most photographers offer start at around $200-$400. These are usually digital only that include 3-5 digital photos.
2. Be sure to see a full price list before you commit
Ask lots of questions when you are shopping around for photographers. If a photographers prices sound to good to be true they probably are. Don't get tricked by what sounds at first great deal only to get stuck spending more than to wanted to.
3. Find out if the photographer has a minimum spend.
At the end of the day boudoir photographers are running a business and we need to cover our business operating costs. One of the ways some photographers is organise their price list so cheapest item covers the running costs. Another way is to have a minimum spend. The cheapest product might be only $50 but they have a minimum speed of $1200.
4. Session fees and optional extras
Most photographer will have a session fee and deposit and you pay this deposit when you schedule the time and date of your photo shoot. This deposit will go towards to full session fee.
How far in advance should you book your photoshoot
This is one of the most important question you need to ask your photographer. The time it takes to have your album and canvas prints made can change a great deal between photographers. A good guideline is book your session at least 7-9 weeks before you need to have your ordered products by.
Using Pinterest to find inspiration for your shoot
Pinterest is a great tool to use while you are planning a boudoir session. Pinterest will save you time and help you find and organising your inspirations for your boudoir session. While you are browsing photographers websites start saving your favourite photos you find to a Pinterest inspiration board.
1. Find a style of boudoir you love
There are so many styles of boudoir photography. Pinup, modern, glamour, fitness, etc. which one feel right for you? Start a inspiration board and saving anything that inspires you photos, lingerie, quotes, etc.
2. Find the lingerie you love
Pinterest is great at finding and organising a virtual wardrobe for your photo shoot. Assemble a virtual wardrobe with styles and options that show off the things that you love the most about your body
3. Show your inspiration board to your photographer.
Your inspiration board is a fantastic visual resource to show your photographer. It really help us find a narrative and mood for your photos.


Location of the shoot
After you have found your photographer next you will to decide where to have your boudoir shoot. Below are a few options.
Private studio
Most of my sessions happen in my studio. This space is set up for the purpose of shooting boudoir. This space as tons of beautiful natural light and different styles of furniture ranging from contemporary modern beds to old chic French style bed headboards.
In your own home
Boudoir can be shot in the privacy and comfort of your own home. A shoot at home can result in a much more intimate feeling photo since this is where you and your partner spent time together.
Luxury hotel room
If you and your partner are going to spend your wedding night in a luxury hotel. Booking the same hotel for your bridal boudoir session might extend the romance of your first night together as husband and wife.
Outdoors
Posing semi-nude in lingerie outside It might sound crazy to some. But having your session out in nature can result in some truly gorgeous photos. Outdoors boudoir is not easy it takes a lot of extra planning and organising in order to be successful.
Finalising the mood and style of your photo shoot.
Hopefully by this point you have started a Pinterest board and already showed your photographer will guide you but the final style of your photo shoot is ultimately completely up to you. Do want to be Playful & sexy, Sassy & and full of attitude or steamy and seductive, etc.
Check in with your photographer frequently
Ok you have found your photographer and set a date for your boudoir session. Now all you have to do is cross of the days till your session. If everything is really and set to go then yes just sit back and count down the days.
Thought if you still have some planning to do then please keep in frequent contact with your photographer. We won't think you are being annoying. The only way for you to receive the photo you have dreamed about is for you and me to be on the same page about your photo shoot. Don't leave anything up the chance. I've had clients text me a photo of the lingerie they are looking at while they are out shopping to get my opinion and help them decide on which set to purchase for their session.
Outfits and lingerie for boudoir sessions
Now is the time we start talking about the fun lacey stuff, lingerie. Chatting about intimate lingerie is not a subject that most people spent a lot of time chatting with strangers about. It's normal feel embarrassed and uncomfortable when talking so openly about your intimates. Being a boudoir photographer I'm around lingerie everyday and it easy to forget the subject can be strange to talk about for most people.
I recommend bring four to five different outfits. Even if you don't wear most of them more choice is better than less. it's Important that your lingerie fits you right. Lingerie that's to big or too small will look strange. When buying your lingerie be sure to be fitted by a professional to ensure you're buying lingerie that is fitted correctly.
Picking out lingerie and outfits
Bras & panties
This is the classic style of underwear to wear for boudoir portrait sessions. Matching bra and panties sets can photograph better than most other to styles of lingerie. Things to avoid when choosing bra and panty sets. Avoid printed of patterns like stripes and polka dots. Choose set that are solid colours. black, white, dark blue or red. Bright colours can work but will depend on the style the photos you want.
Veils
It wouldn't be bridal shoot with a veil. A veil can really complete the bridal look in boudoir. I usually don't recommend you bring your actual wedding veil. Veils can be really fragile. A veil hasn't been damaged yet during one of my boudoir shoots but it's always better be safe than sorry. The best length for veils for bridal boudoir is usually hanging just below your butt. This length looks great in standing and sitting poses.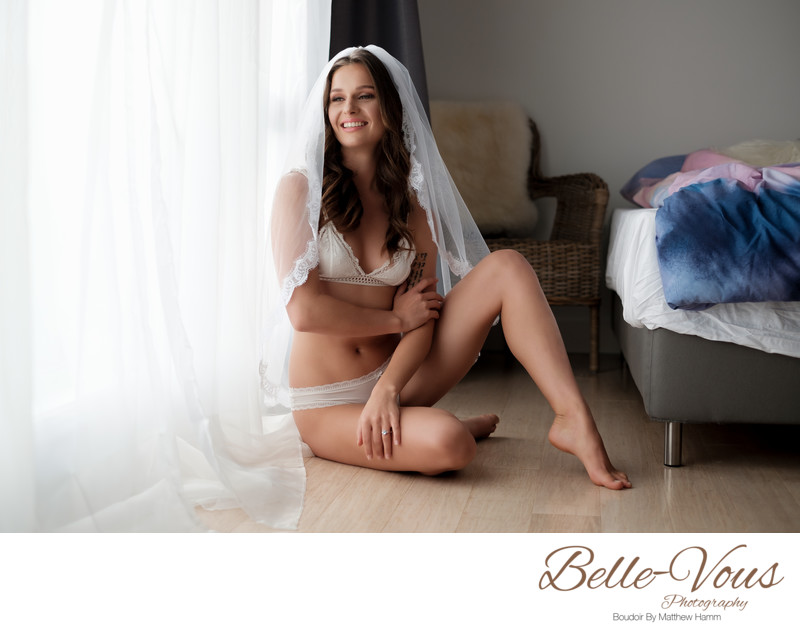 Garter and stockings
These look super sex and make your legs look amazing. Don't worry about getting garter straps to hook into the stockings. My makeup artist will be on hand to help you 🙋
Shape-wear
One piece shape-wear look great and are comfortable. No tight straps or bra under-wire to dig in during posing. They are also great hide the stomach area if that a part of yourself that you're self conscious about.
Corsets
Corsets can sometimes be hard to recommend. Corset can look absolutely amazing because they are good at shrinking your waist and boosting your bust. If the fit is not correct or doesn't have steel bones, the corset will push flabs of skin out over and under the corset.
Sheer white robe
A sheer white robe is fun to play and pose with. They are also great a covering up any problem areas while at the same time not hiding the sexy lines and shape of your body.
High heels
High heels will make your legs look longer and sexier, the higher the better. You won't be walking around in these so no need to worry about spraining an ankle. White is the classic bridal look but black is also a great choice.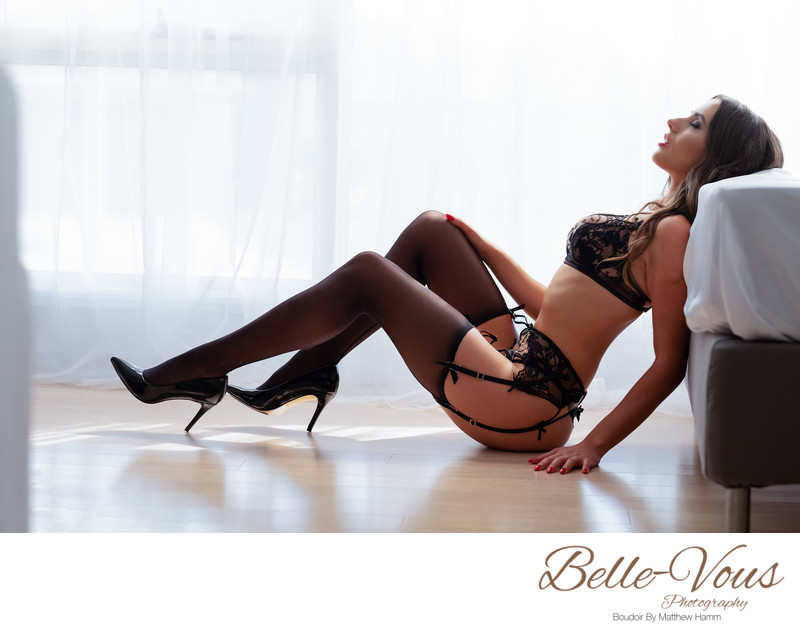 One of his shirts
If your bridal boudoir photos are a gift for your groom, then bring something from his wardrobe. It can be his work shirt and tie, a sports jersey, or anything that will make the photos more personal and sexy for him.
Something casual
Don't underestimate how sexy everyday clothing can be. A tank top and jeans can be just a sexy as barely there lingerie. We can also combine everyday casual with lingerie. Blue jeans with a white bridal corset is just one on the many combo we can try.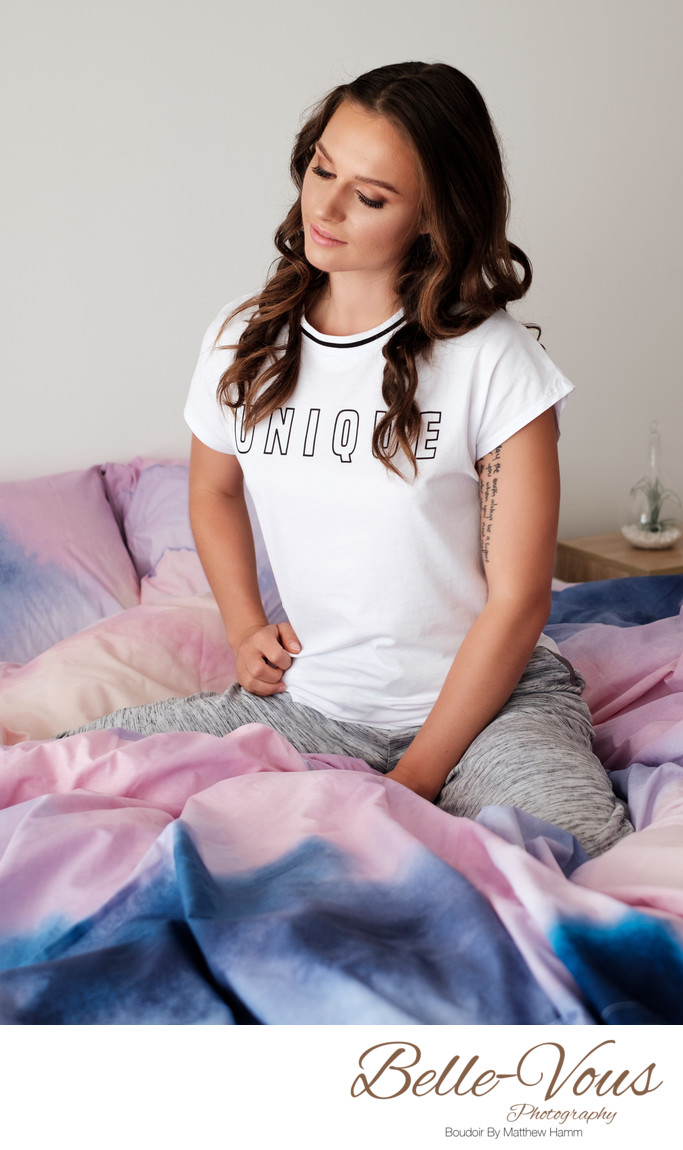 Props and jewellery
It might sound obvious to bring your engagement ring People have forgotten to bring it before. They taken it off to clean so it extra sparkly for the shoot but forgot to put the ring back on after it has been cleaned.
Jewellery is a great accessory to add to your shoot. Have any diamond earrings? Bring them if you do. How about long string of pearls? These are great for draping. Jewellery adds extra depth to your photos.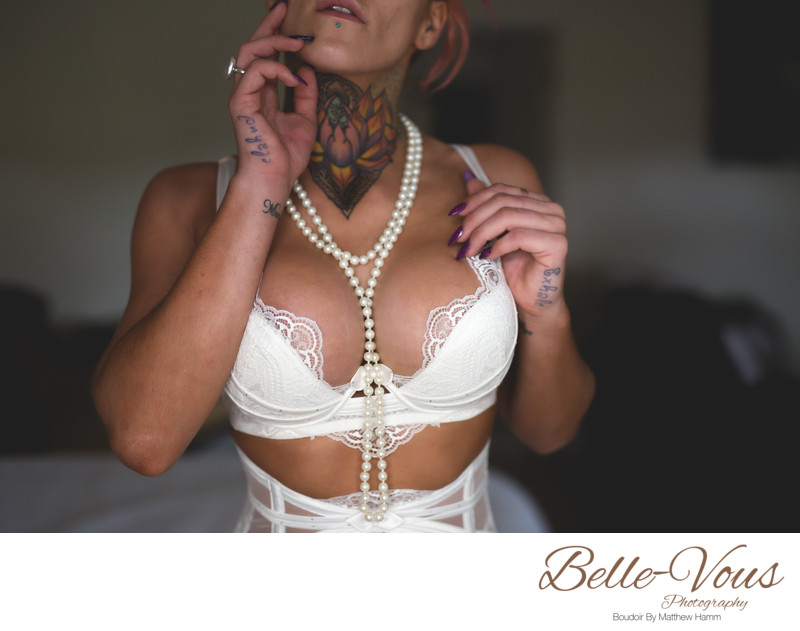 How to prepare for a bridal boudoir shoot
Week before
DON'T Get a spray tan!
I recommend not getting a spray tan. They always streak and can make your skin look orange to the camera. Limit your sun exposure for the week before your shoot to avoid sun burns and dry skin. Don't worry too much about tan lines with the magic of photoshop I can remove those.
Get your hair done
About a week before your photo shoot. Pop into your hairdresser for a quick trim and colour retouch if you need it.
Waxing
Wax at least 3 days before your shoot, so to give your skin time to heal. Avoid waxing anything you haven't done before. Like waxing eyebrows, armpits and bikini area if you don't wax these areas regularly it can take longer for your skin the heal. A simple trim or shave might be all you need for these areas.
Manicure and pedicure
I will be taking lots of photo of your hands and engagement ring, so your nails will be seen in a lot of the photos. A few days before your photo shoot treat yourself to visit to a nail salon for a manicure and pedicure. Make sure the colours you pick will match your outfits. Bright yellow nails are probably not the best choice if you're going to be wearing dark red lingerie. Keep the colours neutral so not to draw too much attention to themselves. We want to draw the eyes attention to that gorgeous engagement ring he gave you.
Stay hydrated
Avoid alcohol and drink plenty of water to the lead up to your shoot. Staying hydrated will help keep your skin from drying out and will just overall make your skin look healthier.
Protect your skin
Moisturise your skin head to toe daily and put on extra sun protection when going outside.
Plan a night out for the evening after your photo shoot
Don't waste the makeup! haha. Planning a romantic evening out with your partner can be the perfect cover story for the reason why you are glammed up.
Wash your hair
About 2 days before and then leave it Alone. Don't wash it again or apply any hair products. If your hair is too clean or has product applied to it. It can be really hard to style on the day of the shoot.
Let me know of any allergies or medical condition I should be probably be aware of
I provide food and drinks during the shoot. If you have any food allergies or medical conditions please let me know so I can make the necessary precautions. And there is no need to feel self conscious or weird letting me know. I used to a waiter in some high-end restaurants in a past life, so my only concern is your safety and ensuring you are having a fun time while you are here.
Night before
Go to bed early the night before
While makeup can cover the bags under your eyes from a lack of sleep. It can't hide the fact you feel tired. It will show in your body language and facial expressions.
Make a list of what you are taking
Making a list can be a massive help when packing for your shoot. It's common people to bring multiple suitcases full of stuff and is easy to forget things when you are bring so much stuff.
Remind your partner about the dinner date
If you plan going out after your boudoir session. Please remind your partner, us guys are usually not great and remembering things like this. You don't to arrive home all glammed up and he is in front of TV in his underwear playing video games.
Day of your shoot
Have a shower
Give your skin a good scrub to remove any remaining dry skin. Be sure to clean the bottom of your feet as well since they will be in a few of the photos
Breakfast
I don't want you to starve yourself. But avoid eating a heavy meal. A bowl cereal and fruit is perfect. Probably don't go for a full on English breakfast with the works. Eating too much before your shoot and leave you feeling and looking bloated.
Cut tags off
I have no idea why but lingerie makers seem to have a habit of put the tags in the most unflattering and embarrassing spots possible, especially on sheer sets 😳. If the tag looks like it could be a problem please cut them off beforehand.
Pack your stuff
Don't worry if you're bring along tons of bags. More options is always best.
Double check your list
Tick things off your list while you are packing. You don't want to forget anything.
Wear loose fitting clothes
To help avoid lines on your skin please wear loose fitting clothes while you're travelling to the studio. Even if it's something as daggy as an t-shirt and old pair track pants. I don't mind what you look like when you arrive.
Tips for relaxing and feeling comfortable during your bridal boudoir shoot
Play Music
Make a playlist of songs that make you feel special. If I know the words I'll sing along with you 😁.
Breathe
Close your eyes and take some deep slow breaths in through your nose and out through your mouth. This will help to calm nerves and boost confidence. Do this as often as needed! This is the technique I use whenever things get a bit overwhelming for me. I see you feeling nerves we stop and do this together. Trust me this really works!
Stretch
Before we start posing I have everyone go through a few super simple and quick stretching exercises. This helps warm you up after sitting for over an hour in the makeup chair. You won't even realize that you these stretches are very similar to the poses we will be doing during the shoot..
Breaks
If you ever feel the need to take a quick break from being in front of the camera. Just let me know, I'll give you all the time you need to feel comfortable. I only book one photo shoot per day so you don't ever have feel rushed because I have another client coming in 1 hours time. Take your time you have me for the whole day.
Bring a friend
I always encourage people bring at least one friend to their shoot. If you are feeling a little nervous about your shoot having someone you're close cheering you on from the sidelines to can be a big boost to your confidence. Tho be sure you bring along a friend that is positive. The type of friend that always has your back and is ready with complement when you need one most.
At the studio
It's ok to be nervous
Hopefully by this point we have already meet in person during your consultation and kept in contact through text or email while you were planning and organising the finer details about the photo shoot. although even after all this it still 100% natural to feel nervous when arriving at the studio. But be confident in knowing those nerves we'll soon evaporate way once you sit down in the makeup chair.
Meet the makeup artist
Not long after you arrive I'll Introduce you to my makeup artist. You can show her any of your inspiration photos you have saved on your phone. After everyone is on the same page she will start doing your makeup and hair. I only work with the best makeup artists in Brisbane. My clients fall in love the makeup so much it's starting to become common place for my bridal boudoir clients to book the same makeup artist for their wedding day.
Having your makeup done
Now is the time to sit back relax and sip on a glass of champagne and watch your transformation in the mirror.
Picking your first outfit
When deciding on which outfit to wear first don't over-think it. Just pick the one that you love the most and makes feel the sexiest. If you are still unsure don't stress it you can always change into something else. A good first choice is wearing one of his shirts over your favourite lingerie set.
Posing
Posing is definitely one to things most people nervous the most about. But don't worry I will coach you into flattering poses that hide the things to don't like and accentuate the things you love the most about your body.
Second outfit
By the time you are ready to change into you second out any nerves you might have had should have melted away. This is a great time to change into your bridal sets
Third and fourth outfits
This is when we change up the mood and style if you were looking to do different style after we have shot you in your bridal sets. This is where you can let your imagination run wild and the fun outfits and props come out to play.
Finishing the photo shoot
After around 4 hours we will finish up shooting if there was any particular photos you were hoping to get now is the time to let me know before we finish and you change back into you regular clothes.
After The Photoshoot
Viewing session
Right after we have finished shooting we will sit down and go though all of the photos we have taken. I'm a strong believer of not hiding and obfuscating the unedited images and the post processing I use. I can show you how I will edit your photos and what is possible with editing
Picking out you favourites
Depending on how long we were shooting for we could have over 800 photos to look through. Don't worry and take your time to pick out your favourites. We will go through them together and I will help you pick out the best ones.
Ordering you products
This is when you decide on what product you want to order. I have many different digital and physical products available. Ranging from custom phone app to luxury Australian handmade albums. Payments plans are available but keep in mind I won't be able to send away for your products till you have paid the full amount. If you want to pay for your order over time please book your shoot well in advance from when you need to receive your finished products.
Album designing
If you have decide to order an album. To save time I will design a rough draft of your album on the same day of your shoot and you can give me feedback and change the design if you don't like it.
Picking up your products
The most exciting part by far of your boudoir shoot picking up your finished albums and/or prints.
Creative ways to surprise your groom with your photos
There are many ways you can surprise your groom with your boudoir photos below are only a few.
Tease him
It's common for the bride and groom to not spend the day or night before the wedding together. A cheeky way to surprise him is give him just one teaser photo the day before the wedding. This will drive him crazy thinking about you and not being able to be with you till the wedding
Hide and seek.
My favourite story I have from a past client is she ordered along with her album she also so ordered 25 mini prints of the photos we took of her in his work clothes. She made them into a little strip tease game out of them. She numbered them 1 out 25. The first one she was fully dressed and by the last one she just had his work shirt and hat covering her up. She hid prints around the house. Under pillows, In the cupboard etc. She wrote little hints on the back of each print on how to find the next one. He spent the best past of a hour reading the hints and finding the next photo. When he finally found the last one and read the instructions on the back it lead him the album full of the extra steamy photos. If your partner is the playful type and loves playing games this one of the best ways to surprise him.
Thanks for reading
I hope this guide has been helpful and has answer your questions about bridal boudoir. If you still have questions feel free to comment below or or via my contact me page. I'm going to keep updating this guide with new info when I receive questions. Be sure to check back often to read the updates.
Best
Matthew Hamm.
---
Copyright All rights reserved © 2014 - 2023 Matthew Hamm | Belle-Vous Photography
4 Fryer Close Bellbowrie 4070 QLD Australia
Brisbane | Sunshine Coast | Gold Coast | Toowoomba | Ipswich
Privacy Policy | Safe Space Policy | Terms and Conditions | Feedback
Ultimate Bridal Boudoir Guide