Frequently Asked Questions About Matthew &
Belle-Vous Photography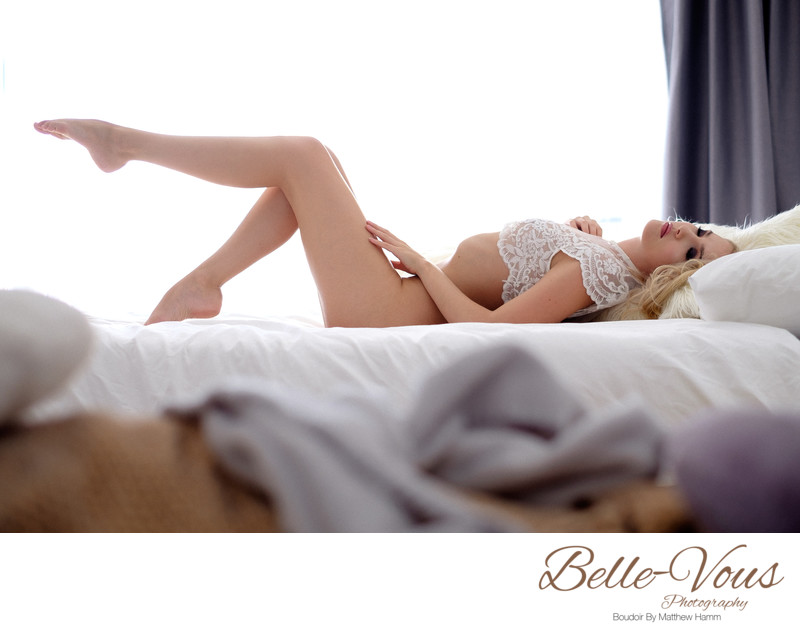 General Info
In this section, I answer several questions about myself and my photography business.
Um... Are you a male boudoir photographer?
Understandably some women are hesitant about having a male boudoir photographer taking their photos, while others prefer the male perspective. I can guarantee a relaxing, professional and amazingly awesome experience. I sure about one thing I will capture pictures both you and your partner will enjoy!
Why did you become a boudoir photographer?
My story of becoming a professional boudoir photographer begins with my terrible anxiety problems and my obsession I had with landscape photography. I soon realized that photography had a powerful ability to help me overcome my anxieties. With this in mind, I started down the path of becoming a professional photographer.
My anxiety was getting the better of me, and I was looking to push myself outside of my comfort zone while also helping others. What drew me to boudoir was its ability to help other people overcome their own self-doubts and boost confidence. I have passed on what I have learned personally about self-confidence to the woman I photograph.
How would you describe your photography?
It's really great! Don't believe me check out my boudoir portfolio.
What kind of photography gear do you use?
I use what I feel is the best equipment for boudoir photography. For more info, I have a more detailed Photography Equipment page on my site.
Do you still shoot with film?
When I was starting my photography journey, I shot tons of rolls of film. Check out my film photography portfolio to see my Landscapes, Fashion And Boudoir Shot On Film. Since becoming a full-time photographer, I don't shoot that much film any more. I loved developing my own film in a darkroom with traditional chemicals, but it's a massive time commitment. The digital workflow is faster, easier, and much more reliable. I still shoot film on a few of my personal projects, but I can't see myself using film for a boudoir session for a client.
Are you a successful photographer?
I'm sure by most people's standards, I would be considered among my peers in Brisbane.
It's important to me to continually evolve and improve. I always want to be better than I was yesterday.
How long have you been in business?
In 2014 I made the transition from hobbyist photographer to professional photographer. Check out About Matthew Hamm for more information about my story.
What is the pre-shoot consultation?
Before you book your photoshoot, we will have a chat over coffee at my studio to discuss more of the details of my photo sessions. I love taking the time to get to know you and finding out why you are looking to do a boudoir shoot. During our chat will find the perfect outfits, plan the mood and style of your shoot and figure out what will work best. Are discussing these chatting can be 30mins to 2hrs long. I love going into detail and making your photos unique.
How do you prepare yourself before a boudoir session?
Before anyone has arrived for the session. I blast music at full volume from the Hi-Fi in the studio. This helps me to get pumped and ready for the session. If you arrive a little early, you are welcome to join in.🤘
Why choose Belle-Vous Photography?
Boudoir photography has been gaining in popularity in the last few years. It's the favourite wedding gift for a lot of brides-to-be to give their grooms. I always will encourage you to do your research before choosing your boudoir photographer. There are different levels of experience, talent, style and price. You should choose a photographer whose style matches what you are looking for and a photographer that you will feel comfortable with for such an intimate setting.
With Belle-Vous Photography here are a few things you should consider:
I have photographed 100s of woman. I've worked with woman from ages 18-56, every shape and size, and I have spent years learning how to pose, use angles and lighting. Most importantly, how to make my clients feel comfortable in front of the camera.
Unlike other photographers that book multiple clients per day and have a strict session time limits. I only book one client per day, so you have my full attention and no rushing through poses. My shoots are fun, relaxing day. At the end of the day, I guarantee you will have authentic and sexy boudoir photos.
How far in advance should I book my session?
I've had some woman book sessions booked 12+ months out. However, I ask that you book your session a minimum of 8 weeks before you are wanting or needing your albums/prints. This gives me time for the shoot, post-production, processing and printing. My luxury albums and most of my products are handmade in Italy and sometimes can take up to 6 weeks for them to arrive back in Australia. Just remember to think ahead when booking. Before major holidays (Christmas, Valentines etc.) Printing can take longer and my schedule books up quick!
How long does the photoshoot go for?
I only take one booking per day. This means you will ever feel rushed, and we will have all day to achieve the styles you are wanting from your session. My photo shoots are usually around 7-8 hours long. This includes makeup and hair (1-2hrs), the photography (3-4hrs) and your image reveal and ordering (1-2hr). On average, I spend over 25 hours working with each of my clients. Discussing ideas, planning, shooting, editing, album designing and much more.
I'm not a model and have never done this. Is that a problem?
Over years of photographing boudoir sessions, I have shot women of all ages, shapes and sizes. No one is born knowing how to pose, and no one comes into the studio knowing how to pose, but everyone leaves with incredible! Photos. You have hired me to make you look and feel the best you ever have, and I guarantee you'll leave with a newfound confidence. Your only job: have fun and relax. I only ask that place your trust in me. With amazing posing, lighting and direction, you will love your portraits.
I'm a curvy girl, is that a problem?
Absolutely not! A boudoir shoot is not about your dress size, it all about who you are and the confidence you bring to the shoot. Curves are beautiful, and I loved to celebrate them with you. Plus I know exactly how to pose you to show you at your best!
Can I bring a friend to my photoshoot?
Yes! Please do! I highly encourage bringing a friend along to your photoshoot. My boudoir sessions are a day full of laughter and light-hearted fun. So why not invite your BFF so they and enjoy the day as well. Also if you are feeling a little nervous about your shoot having someone you're close to can be a big boost of confidence.
I need help finding ideas!? can you help me!?
Yes, of course! I'm always here to help. Just shoot me an email, and I'll do everything I can to help. Before you decided to book a photoshoot with us, you can schedule a free in-studio consultation. We will make recommendations on outfits, makeup and themes. We are here to make your dream boudoir shoot come to life!
I'm transgender, can I book and shoot with you?
YES, of course! Trans women are women! My studio is open and body-positive space. My number one goal for Belle-Vous Photography is to make everybody I photograph feels beautiful and sexy.
I don't want to be displayed on your website. Can my privacy be assured?
I take your privacy very seriously. Most of the women I photograph want their photos to stay private. I often work with school teachers, public figures, and professionals, so I understand the importance of privacy. Only a tiny percentage of the women I photograph end up on this website and everyone displayed on my website/blog/advertising has given me written permission to do so. I'd love to share your photos so other women can get an idea of what the experience looks and feels like. But I'm not pushy about trying to sharing your photos, by default your images are kept 100% private and offline.
Where is your studio and do you offer shoots anywhere else?
My home studio is located in Bellbowrie, about 25 mins west of the Brisbane CBD. I also offer shoots in different locations like hotel rooms or your own home based on what you are looking for from your boudoir session. I frequently travel to the Gold Coast and Sunshine Coast.
Are you looking for interns or assistant's?
I have been open to hire a assistant to help out during photoshoot. I found I don't have the time to provide them with the training required to get them up to speed with our I work. So at this time I am not looks for an assistant.
Are you a natural light photographer?
Yes, when conditions are excellent, I will shoot using natural light, and when it's not, I make my own light.
---
The Cost & Products
In this section, I answer questions about my session pricing and booking.
What is the cost?
All my pricing is available online. Just check out my Pricing Page.
Below is a quick preview of what I charge for a boudoir session
My session pricing starts at $99.
This covers everything below:
Reserving your chosen date/time of your session
One on one in-person consultation to discuss your shoot
Unlimited consultation phone, skype, WhatsApp, facetime calls to help you plan outfits, styles, mood, etc
Professional makeup & hair
Relaxed & comfortable no rush photoshoot (All Day)
As many outfits changes, we can fit in during the shoot,
Outfit planning
Full pose coaching
Same day in-studio image reveal and product ordering
The shoot fee is all that needs to be paid before to your shoot.
Why do I need to pay the deposit?
To book my team for a particular time. I will need a signed Boudoir Photography Agreement and a $50 deposit.
The deposit covers everything my team and I do on the day of your photoshoot. The deposit also allows me to lock in your session date with my team.
Do you offer discounts?
I do indeed understand that budget is a significant concern when looking for a boudoir photographer. Although I would love to offer discounts to my clients. I want to avoid the appearance of favouritism, and I don't want to be one of those photographers that uses frequent "limited" time-based and high pressure sales tactics to book clients. I want to keep it fair for everyone, once a year I will usually run a giveaway and discounted sessions. Join my Facebook Community to be informed on when I'm running my next promotion.
When do I get to see my photos and pick out the ones I would like to purchase?
Straight after we are done taking photos. Sounds amazing right? Why wait weeks to see your proofs? When you can see every picture from your session on the same day. Or if you don't have time, you are welcome to schedule a time a few days after to pick out your photos.
I don't use this time as an upsell opportunity. My boudoir pricing is fully transparent, and during your pre-shoot consultation, we will discuss what you are looking to buy and work out what will be best for you.
Will I get digital images of my photos?
Yes, I offer printed products and digital images. During your purchasing session, I will help you choose the best option for you.
Will I also get black & white photo?
I will provide you with full-resolution copies of your photos in colour and black & white and no extra cost.
What if I lose my boudoir photos?
I have the original files of every boudoir session I have shot All 100,000s of thousands of them. I'm close to cracking over 1,000,000 photos in my archive. So please don't worry if you loser your photos. I've got your back, and I won't charge you a recovery fee when you ask for them. If you want to see how I keep your photos safe check out this article about my photo storage setup.
Do you offer Boudoir Mini Sessions?
Yes, I do offer Boudoir Mini Sessions, but I only book a max of two per month. Mini session can be a massive time commitment for my team and me. So we prioritise full boudoir experience sessions since the time commitment is about the same. If you would like more info about my mini sessions get in touch and we'll see if we have any dates available.
---
Makeup & Preparing
In this section, I answer several questions about makeup and how to prepare for your session.
Is hair and makeup included?
Yes, hair and makeup is included in your session fee (includes lashes). I have a makeup artists, and your makeup artist for your session will come to the studio to give you an amazing makeover before your photo session!
Do I need to practice posing at home in the mirror?
There is no need to practice. You hired me, so you don't have to worry about that stuff.
---
Contact Me
Have a question not answered here? I'd love to hear from you!
---
Brisbane Boudoir Photographer | Copyright © 2020 Matthew Hamm | Belle-Vous Photography | All rights reserved | 0458 187 007 | info@bellevousphoto.com
4 Fryer Close Bellbowrie Brisbane
Brisbane | Sunshine Coast | Gold Coast | Toowoomba | Ipswich | QLD Australia