What It's Like Being A Male Boudoir Photographer


Boudoir photography is generally a female photographer dominated style. So what's it like being a male in a female dominated industry?
Starting My Photography Journey
I'll start off what quickly what it was like starting and building my photography brand.
When I first started getting into photography, I wasn't sure what I wanted to do or where my photography would take me. I was living in Redcliffe. If you know anything about Redcliffe, you probably know it has lots of beaches and jetty's so I got my start taking landscapes like the ones below.
I spent this time learning how to best use my camera — learning the different camera settings and basic composition. Somewhere in this time, I decided to go to photography school. For me, the time and money investment of going to photography school was definitely worth it. It was eye-opening and helped me grow as a person.
Why I Shoot Boudoir
Why I decided to specialise in boudoir photography. To put it simply I just want to make people feel awesome about being themselves! I know all too well the feeling of having low self-esteem and anxiety. My goal with Belle-Vous Photography is to make everyone feel amazing about being themselves.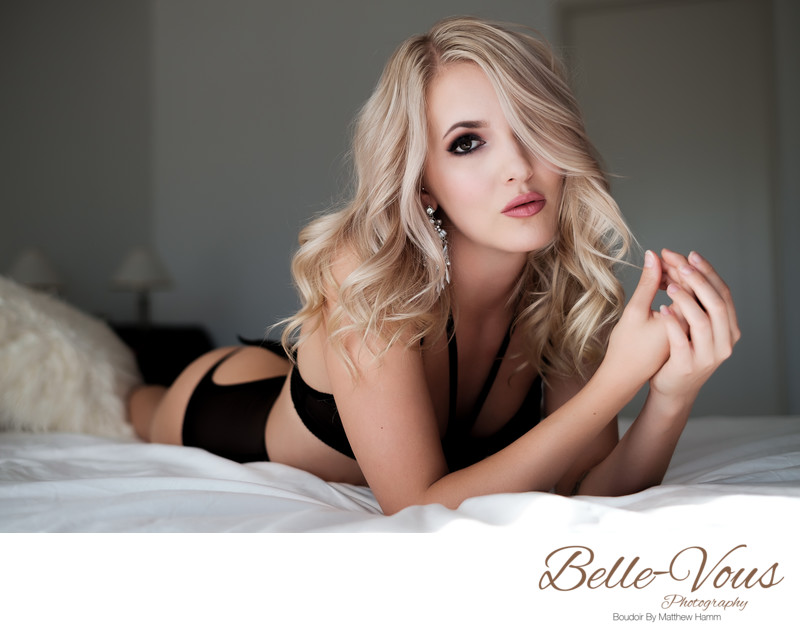 Not Gender Specific
When I was finished at school I didn't have a pre-established photography brand to build on when I started Belle-Vous Photography; I started from scratch. I didn't have any well-established past clientèle to help me build up my brand and when I was first starting shooting boudoir, and I worried most women wouldn't want a shoot with me simply because of my gender. I did a bit of research to see if the idea of male boudoir wasn't as crazy as it kinda seemed at the time. I found out some women prefer a male photographer over a female one and If the photographer is professional and respectful, the gender of the photographer doesn't matter. The final art work still holds the same value, and after a being a boudoir photographer for years now this still holds true now.
During my research the consensus among photographers and bloggers was males shoot more edgy and sexy styles, and females shoot softer and less provocative. I don't know where this idea first came from, but I don't think it's accurate at all. I've seen female photographers shoot edgy, provocative stuff and males shoot soft and airy. It just comes down to each photographer's individual style and not their gender.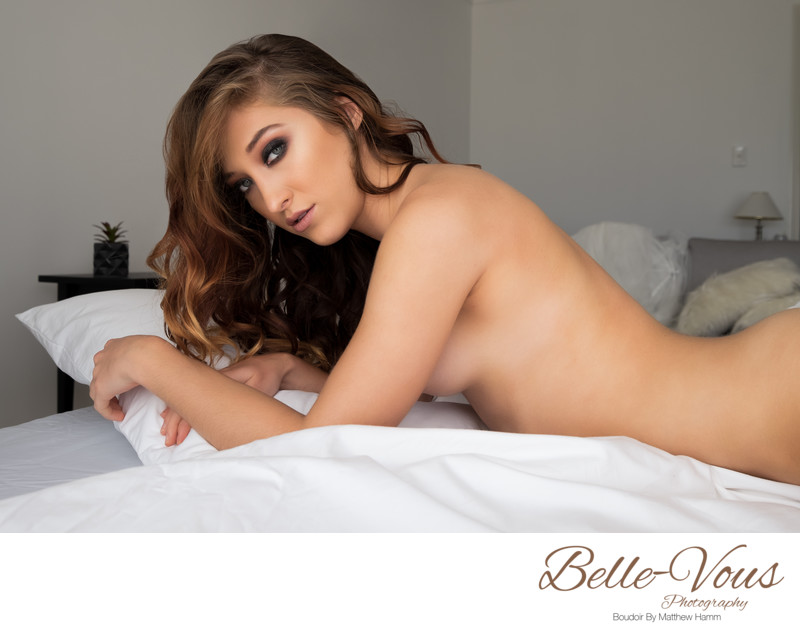 The Challenges
The biggest challenge wasn't finding clients that wanted or didn't mind I was a male photographer. Women book a boudoir session with me because they love my work. Male or female it didn't matter; it was only the quality of my photos that mattered to them.
The biggest challenges are easing my client's nerves for most women a boudoir session well outside of their comfort zone. Stripping down and baring it all regardless of who is behind the camera male or female can be hard to do. To help overcome them these nerves I find myself asking lots of questions. These are anywhere from "what's your favourite type of music?" or "How did you meet your partner?" The goal of these questions is to ease my client's nerves and let them know my studio is a save friendly space. I also don't rush my boudoir sessions; I only book one boudoir client per day. I've had some super quick 30 min sessions and a few 9-hour epics. Everyone is unique, and I create a unique boudoir experience for each one of the women I photograph. As the session progresses, any nerves start to fade away, and my clients start to loosen up and become more carefree.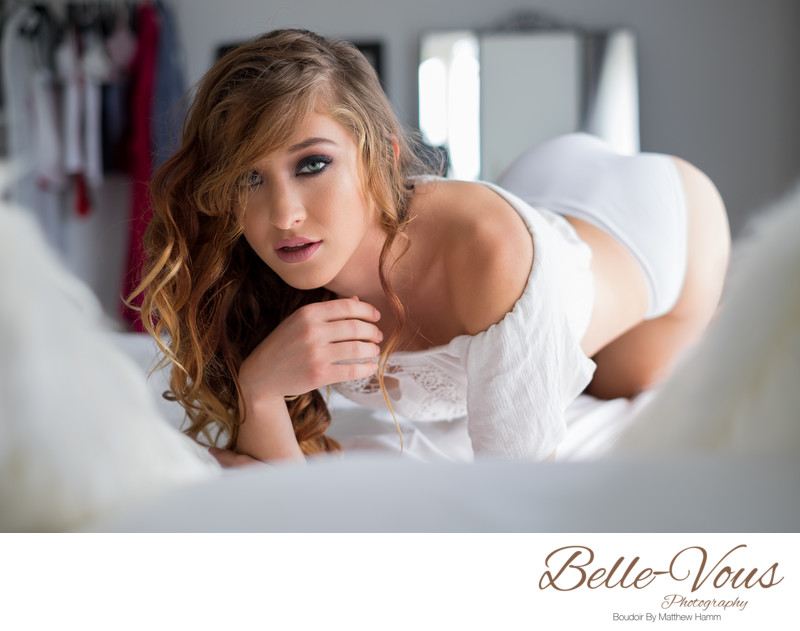 My Work Style
For me, a boudoir session is not as simple as telling my client where and how to pose. Boudoir photography is a very personal and intimate. There is more to it than just poses. The most challenging part of every boudoir session is easing nerves and giving my clients time to emotionally open up to me. My goal with every photo shoots it to capture the real person and not a fake over posed version of them. The only way my images will speak to my clients is if they can see themselves in the images. This can be something as simple as capturing a real natural smile, which you can probably imagine can be hard to capture when they're only wearing lingerie in front of a stranger. I spend a lot of time getting to know everyone I photograph. So much it's common after my photo shoots my clients will say something like "This feels like we are long lost friends and we just spent the last few hours catching up and reminiscing."
By the time they see their beautiful finished photos my clients are over the moon with joy. This is because I'm a professional boudoir photographer.
---
Why A Male Boudoir Photographer Might Be Best For Your Session.
If you're looking for a boudoir photographer, you will most likely find more female photographers than male ones. I want to share with you why you might want to hire a male boudoir photographer instead.
1. Men and women see the world with a lens, and we usually see each other differently. We have different life experiences, different mentality and different intent when we see the opposite sex. What men find sexy about a woman is different from what most women find sexy about themselves. You might think spending the whole day binge-watching Netflix in a plain old shirt might be super unsexy, but your partner might think you're at your most sexist when you're super casual. Barely there lingerie has the wow factor, but a lot of the time us guys think showing less is way sexier.
2. The most common thing my clients hire me for is to give their boudoir images as wedding gifts for their husbands, and they hire me for a man's opinion and perspective. It's common when we are picking out photos and designing the album; I will be asked: "you're a guy which ones would you put in the album and what layout?" It's like when I'm buying a gift for my girlfriend the best person to ask for advice is a woman. Another favourite reason why my clients hire me is for confidence boosting of seeing themselves through the eyes of a male.
3. It is usually more comfortable for a woman to show her sexy side on camera with a male photographer because it's a dynamic women are generally more used too. Our body language likely will be a little different with a male boudoir photographer. The way you smile, move your hands, etc. If you are looking for a more authentic female to male dynamic in your final images, a male boudoir photographer might be the best choice.
4. Female photographers dominate boudoir photography. There is a perception that the client and her partner will be more comfortable with a female photographer taking the photos. Both female and male photographers are focusing on the lighting, posing, emotion and the overall experience. We are not looking at 'you' we are looking at everything that's needed to can create the best image of you.
5. At the end of the day find a photographer who will make you feel beautiful whether it be male or female. They should have you feeling sexy, powerful and unique. It's a boudoir photographers job to make you feel relaxed and comfortable above all else.
---
Brisbane Boudoir Photographer | Copyright © 2019 Matthew Hamm | Belle-Vous Photography | All rights reserved | 0458 187 007 | info@bellevousphoto.com
4 Fryer Close Bellbowrie Brisbane
Brisbane | Sunshine Coast | Gold Coast | Toowoomba | Ipswich | QLD Australia
Privacy Policy | Terms and Conditions | Feedback
What It's Like Being A Male Boudoir Photographer