Frequently Asked Questions About Matthew &
Belle-Vous Photography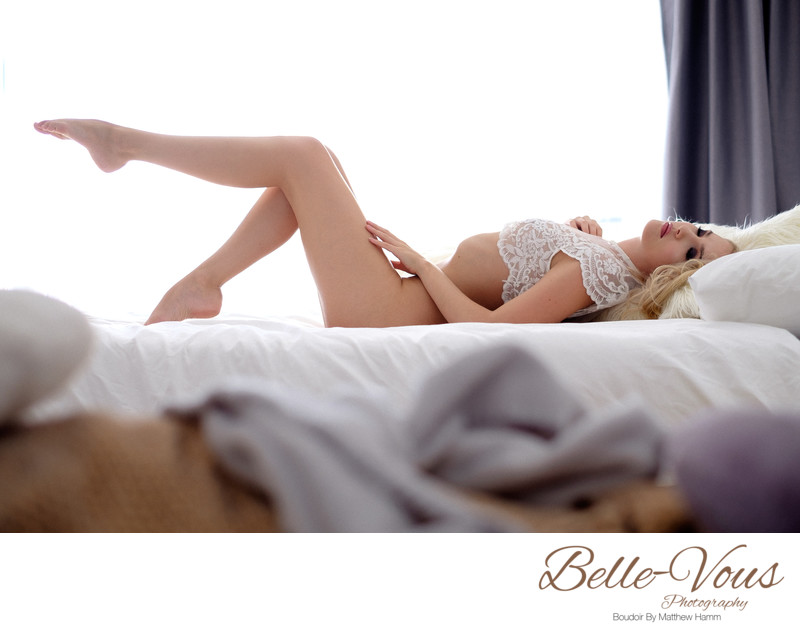 General Info
In this section, I answer several questions about myself and my boudoir photography.
Before you book your photoshoot, we will have a chat over coffee at my studio to discuss more of the details of my photo sessions. I love taking the time to get to know you and finding out why you are looking to do a boudoir shoot. During our chat will find the perfect outfits, plan the mood and style of your shoot and figure out what will work best. Are discussing these chatting can be 30mins to 2hrs long. I love going into detail and making your photos unique.
Boudoir photography has been gaining in popularity in the last few years. It's the favourite wedding gift for a lot of brides-to-be to give their grooms. I always will encourage you to do your research before choosing your boudoir photographer. There are different levels of experience, talent, style and price. You should choose a photographer whose style matches what you are looking for and a photographer that you will feel comfortable with for such an intimate setting.
With Belle-Vous Photography here are a few things you should consider:
I have photographed 100s of woman. I've worked with woman from ages 18-56, every shape and size, and I have spent years learning how to pose, use angles and lighting. Most importantly, how to make my clients feel comfortable in front of the camera.
Unlike other photographers that book multiple clients per day and have a strict session time limits. I only book one client per day, so you have my full attention and no rushing through poses. My shoots are fun, relaxing day. At the end of the day, I guarantee you will have authentic and sexy boudoir photos.
I've had some woman book sessions booked 12+ months out. However, I ask that you book your session a minimum of 8 weeks before you are wanting or needing your albums/prints. This gives me time for the shoot, post-production, processing and printing. My luxury albums and most of my products are handmade in Italy and sometimes can take up to 6 weeks for them to arrive back in Australia. Just remember to think ahead when booking. Before major holidays (Christmas, Valentines etc.) Printing can take longer and my schedule books up quick!
I usually do around 80 to 90 boudoir photo shoots a year. Which works out at roughly 1 to 2 photoshoots a week. I can sometimes fit in last minute bookings if the scheduling works out between us.
I only take one booking per day. This means you will ever feel rushed, and we will have all day to achieve the styles you are wanting from your session. My photo shoots are usually around 7-8 hours long. This includes makeup and hair (1-2hrs), the photography (3-4hrs) and your image reveal and ordering (1-2hr). On average, I spend over 25 hours working with each of my clients. Discussing ideas, planning, shooting, editing, album designing and much more.
Over years of photographing boudoir sessions, I have shot women of all ages, shapes and sizes. No one is born knowing how to pose, and no one comes into the studio knowing how to pose, but everyone leaves with incredible! Photos. You have hired me to make you look and feel the best you ever have, and I guarantee you'll leave with a newfound confidence. Your only job: have fun and relax. I only ask that place your trust in me. With amazing posing, lighting and direction, you will love your portraits.
Absolutely not! A boudoir shoot is not about your dress size, it all about who you are and the confidence you bring to the shoot. Curves are beautiful, and I loved to celebrate them with you. Plus I know exactly how to pose you to show you at your best!
Any intimate lingerie you think will look the best on you. Avoid neon or overly bright colours they can be very distracting. Ditch the strong patterns and thick stripes and darker colours are more slimming than lighter colours.
Here are my recommended Brisbane lingerie shops and online stores for the best lingerie to wear to your boudoir session:
Honey Birdette
Agent Provocateur
Bras N Things
Yes! Please do! I highly encourage bringing a friend along to your photoshoot. My boudoir sessions are a day full of laughter and light-hearted fun. So why not invite your BFF so they and enjoy the day as well. Also if you are feeling a little nervous about your shoot having someone you're close to can be a big boost of confidence.
Yes, of course! I'm always here to help. Just shoot me an email, and I'll do everything I can to help. Before you decided to book a photoshoot with us, you can schedule a free in-studio consultation. We will make recommendations on outfits, makeup and themes. We are here to make your dream boudoir shoot come to life!
YES, of course! Trans women are women! My studio is open and body-positive space. My number one goal for Belle-Vous Photography is to make everybody I photograph feels beautiful and sexy.
I take your privacy very seriously. Most of the women I photograph want their photos to stay private. I often work with school teachers, public figures, and professionals, so I understand the importance of privacy. Only a tiny percentage of the women I photograph end up on this website and everyone displayed on my website/blog/advertising has given me written permission to do so. I'd love to share your photos so other women can get an idea of what the experience looks and feels like. But I'm not pushy about trying to sharing your photos, by default your images are kept 100% private and offline.
My home studio is located in Bellbowrie, about 25 mins west of the Brisbane CBD. I also offer shoots in different locations like hotel rooms or your own home based on what you are looking for from your boudoir session. I frequently travel to the Gold Coast and Sunshine Coast.
In the past I have been open to hiring assistants to help out during photoshoots. I found I don't have the time to provide them with the training required to get them up to speed with how I work. So at this time I am not looking for an assistants.
Yes of course! I don't discriminate on what you do for work or how you wish to use your photos. I've worked with many sex workers over the years. Most use their boudoir photos to update their online galleries or to use on Onlyfans. You are free to use your photos anyway you wish!
---
My Style
Here we find out more about my style of boudoir photography and what make me unique!
Yes, when conditions are excellent, I will shoot using natural light, and when it's not, I make my own light.
When I first started I was using a lot of film. My favourite film cameras to use back then was the Soviet-era Lomo LC-A & the medium format plastic fantastic Holga from Hong Kong. I was into some weird stuff haha. You can view some of my early film work
HERE
. Go easy on me ha.
My style has changed from these day but these cameras and the style of photography still influences me to this day.
When I was starting my photography journey, I shot tons of rolls of film. Since becoming a full-time photographer, I don't shoot that much film any more. I loved developing my own film in a darkroom with traditional chemicals, but it's a massive time commitment. The digital workflow is faster, easier, and much more reliable. I still shoot film on a few of my personal projects, but I can't see myself using film for a boudoir session for a client.
---
Make-up & Preparing
In this section, I answer several questions about makeup and how to prepare for your session.
Yes, hair and make-up is included in your session fee (includes lashes). I have a makeup artists, and your make-up artist for your session will come to the studio to give you an amazing makeover before your photo session!
There is no need to practice. You hired me, so you don't have to worry about that stuff.
---
Top 13 Questions To Ask Your Boudoir Photographer
A boudoir photography session is heaps of fun, but it can be a little nerve-wracking too. Here you can find some answers to frequently asked questions about boudoir sessions with me.
Will my images be shared online?
My number one priority is making my clients comfortable! I understand that you might be a little nervous about everybody seeing you dressed in barely-there outfits. Sometimes you are just starting to love your body and who you are and are not ready to share your images. Or perhaps you would prefer them to be for your partner's eyes/your eyes only.
Sometimes I might want to share your images if I'm are really proud of them, but I will ALWAYS ask your permission first and will not share anything that you are not comfortable with. I will always consider your feelings before putting images of you anywhere or sharing them in any way.
Are there payment plans?
Yes, I offer a few payment options! I have a booking retainer when you book your shoot. And the balance of your session is due 2 weeks before your shoot date. If you would like more time to pay off the session, you can schedule the shoot a few months out, and pay the balance off in instalments.
Will I have to wear lingerie for the shoot?
Many people do their boudoir photoshoot in lingerie, but if you feel comfortable in something else, that is fine. Why not search my Pinterest for inspiration for other cute outfit ideas?
Where should I buy my outfits?
There are several shops to purchase outfits from, and it depends on what you are getting and the style of your photoshoot! Here is a long list to choose from with different style and sizing! Bras N Things, Honey Birdette, Big Girls Don't Cry Anymore. Have a look at this list of local and online lingerie shops. If you are looking for something in particular that you can't find, let me know, and I might know where to get it!
Will my hair and makeup be done for me?
I provide you with hair and makeup (including false lashes) for your shoot. For my team and I it's important that you are feeling pampered and as good as you can feel on the big day because that will make you even more confident in front of the camera. I think that a full makeover is the best way to do this for you, please let my awesome team know whether you want to go full glam or something a little more subtle. We are not going to force a style on you that you don't like, so don't be afraid to tell us about the vibe you want to portray.
Do you Photoshop the images?
While we will touch up your images slightly just in order to make the lighting, colouring perfect - nothing will be edited out or into the photos to change the way you look. Boudoir photography is about making you feel confident in the skin you are in, not about changing the way you look. Don't worry, I'm very skilled in positioning, lighting, and everything else to make you look the best version of you possible.
Are digital images available?
No matter what package you choose, you will be able to save the memory of your boudoir photography session. Digital copies of images are available. These photos will be in an phone app gallery that is locked, and you can then download the photos and share and print them as you wish.
What are the types of printed products do you have?
I have a diversity of albums and luxury folio boxes with prints in them! The handmade boutique folio box with the 8×10 matted prints is my favourite. I absolutely love the feeling of a physical printed copy; it's so surreal to see yourself like that!
20 beautiful and glossy pages from the boudoir session that I flip through myself all the chances I get. I think I look at them more than he does. It's a daily reminder that my self-image has totally transformed after having my boudoir shoot." –Katie, on her experience at Belle-Vous Photography!
I'm freaking out! How can I calm my nerves?
It would be weird if you didn't feel nervous before your photoshoot, but we guarantee that once you ease into the session, you are going to relax and feel like a million dollars. I will do their best to make you feel at ease and that feeling when you first see your photos for the first time is going to make it all worth it.
How many outfits should I bring?
How many outfits you bring depends on the package that you have booked. For the blush package, you will need 1-2 outfits, for the glam package you will need 2-3 outfits and for the Platinum Package, you will need 3-4. You are more than welcome to bring more if you can't decide what to wear and we will help you out with the tough decision.
Why should I pick a male photographer? Aren't you only doing this so you can see naked women?
Haha, Let's be honest here if I was only a boudoir photographer because I wanted to see some boobs. There are much easier ways for a guy to do that. I wanted to shoot boudoir because I genuinely wanted to help people feel awesome about themselves.
Now why pick a male boudoir photographer over a female one? It really comes down to just two things. Do you love the style of photos a photographer takes and do you feel comfy stripping down in front of them? T first part is easy, simply check out their portfolio and see if you fall in love with their work. Feeling comfortable comes down to personal taste. Some women feel more comfortable with a male doctor than a female one, or maybe you have lot's of male friends, and you just feel more natural to you to be around males. I'm pretty much the same, I spent most of my life with close female friends, and I just find it easier to be myself around women than I do with men.
Should I get to my shoot early?
It is always best to arrive at your shoot at least ten minutes before the agreed time. This way, we can talk about outfits, any other questions you might have and come up with a plan for the hair and makeup.
Where is your studio located?
My studio in Bellbowrie. I love this place, It's so close to the city (20min drive), but it feels like we are out in the country.
---
Contact Me
Have a question not answered here? I'd love to hear from you!
---
Copyright All rights reserved © 2014 - 2023 Matthew Hamm | Belle-Vous Photography
4 Fryer Close Bellbowrie 4070 QLD Australia
Brisbane | Sunshine Coast | Gold Coast | Toowoomba | Ipswich
Privacy Policy | Safe Space Policy | Terms and Conditions | Feedback