Posing Ideas
7 Boudoir Posing Tips
The comment I hear the most is "I'm super nervous because I don't know how to pose." If you feel this way, don't worry, this is entirely understandable. None of us are born knowing how to pose. Professional models spend years learning this skill. Professional photographers also spend years training their skills. The best thing about working with a pro boudoir photographer is we can give you a crash course in posing. You will be posing like a life-long model in no time.

My favourite way to ease your stress during the first few minutes is to demonstrate the posing we will be doing during your session myself. It's as funny as it sounds. Imagine a 6ft curvy guy doing super feminine posing haha. It is as hilarious as it sounds.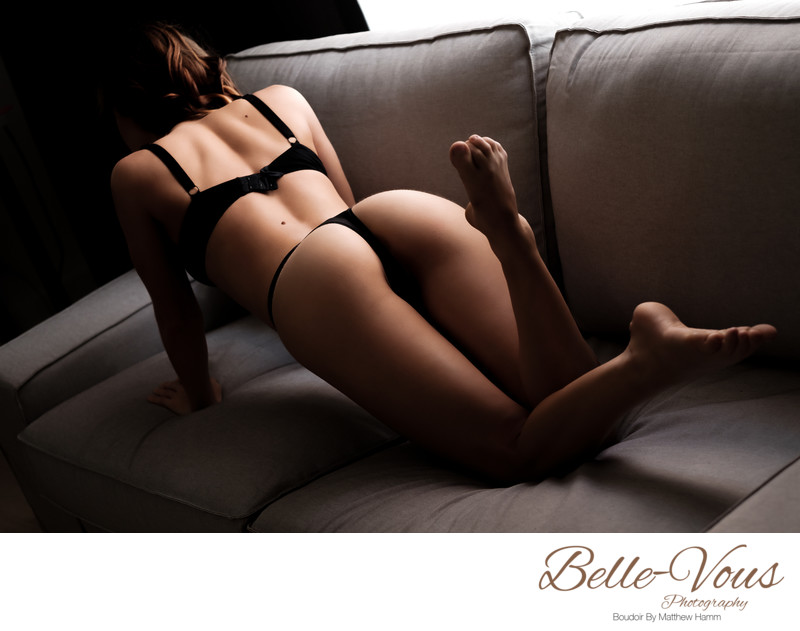 Here are my top 7 tips on how to pose for your boudoir session.
1. Stretching exercises
Makeup and hair usually can take over one hour from start to finish. After sitting still for that amount of time it's normal to feel a little stiff and inflexible. To help you feel really to start posing. I will do a few stretching exercises with you. Stretching can help in two ways. It helps you become accustomed to to some of the poses will be doing later and it also helps ease your nerves and build confidence. No one is born knowing how to poses for photos, its a skill that is leaned over time. These quick stretches will quickly build foundation that we build the more complex poses on top of.
2. Stop and breathe
Posing for boudoir photos can feel awkward and weird. You are putting a lot of mental and physical energy into holding a pose. It's very common for people to forget to breathe and hold their breath when posing for photos. Needless to say this will look strange in the final photos. Getting beautiful natural looking photos is not a easy as me just saying "don't hold your breath and remember to breathe" All this will do is make you worry about one more thing while holding a pose. My favourite thing to do before we start a new pose is take a moment and take a few deep breaths.You will be surprised how well this works at easing nerves and helping you look more natural when posing
3. The more awkward the pose feels the better you look.
Posing for boudoir photos can feel super awkward! You have striped down to your intimates in front of someone you have only known for a few hours and they are positioning you into awkward poses that don't feel flattering one bit at all. Posing for boudoir photos is all about controlling the perspective, the camera's point of view and how the light is hitting your body and much more. Getting all of these different things to line up perfectly might mean the pose could feel super weird but I guarantee in the final photo you will all amazing.
4. High heels
High heels are an awesome accessory to bring to a boudoir shoot. Heels have so many benefits for boudoir photos. High heels are a symbol of power and womanhood. They add height, improve posture by throwing your shoulders back and they also help keep your head up. In terms of sex appeal, heels make your legs look longer, thinner and push up your butt and heels can make you feel more confident and a confident woman is a sexy woman! You will be impossible to resist when wearing high heels, Higher the better!
5. Shapewear
If you're a little self conscious about your midsection some of the boudoir poses could mean showing more than you really want to. Shapewear can be a real lifesaver. This style of lingerie perfect for showing off your sexy curves while leaving more to the imagination.
6. Bring a friend
I encourage everyone brings along a friend to their boudoir shoot. Even if you are feeling super confident. Having your bestie cheering you on from the sidelines can really be a big help. Your poses look and feel more natural and confident. Whenever a bestie is here during a shoot, the day is full a laughter and positive vibes.
7. Music playlist
Music will always be playing the entire time in studio. Music can really set the mood and help you feel like yourself during boudoir shoots. The right music can put you into groove and poses become more natural looking and feeling. Before your boudoir shoot make you own playlists and fill them with songs that make you feel playful and sensual. Since music plays such a big part of the boudoir experience, I thought I share a few of the Spotify playlists I have made for my boudoir sessions.
Fun and Bubbly Boudoir Playlist
Flirty and Fun Boudoir Playlist
Super Sexy Boudoir Playlist
---
Copyright All rights reserved © 2014 - 2023 Matthew Hamm | Belle-Vous Photography
4 Fryer Close Bellbowrie 4070 QLD Australia
Brisbane | Sunshine Coast | Gold Coast | Toowoomba | Ipswich
Privacy Policy | Safe Space Policy | Terms and Conditions | Feedback