Wedding Planning List For Brisbane Brides
You made it through the modern dating game and managed to find someone that loves and cares for you. Congratulations on your up coming big day!
Planning for a wedding is often said to be one of the most stressful things for new couples to do together. Don't worry, I've got your back.
The Budget
Most people don't like talking about money and end up making the mistake of ignoring their finances. When you plan a wedding you need to have this conversation with your partner no matter how awkward it makes you feel. I have these extremely simple tips that will help you get through the entire ordeal without breaking a sweat.
1. Communicate
It is traditional for the bride's parents to be responsible for the majority of the wedding costs. Nowadays most families are dropping with tradition and sharing the costs. Sit with both the families separately and discuss who wants to pay for what. It makes communication more open. There are parents who decide to pay for the entire thing and there are brides and grooms who will refuse to take the gift. It is advisable to ask both families to state a particular amount each. You can then add these up and decide the rest of your budget accordingly.
2. The total budget
You need to allow for everything you want for your wedding. This is the first step to take after you have decided the total amount. From here on, you and your fiancée can decide what is more important to you individually, so that you know what to spend more on and where to cut it from. In order to keep things under control, try and allow 5% to 10% of your budget to the "unforeseeable surprises" fund. If you are funding your honeymoon on your own, them don't forget to factor that in.
3. Savings
It's best to start saving for your wedding immediately after getting engaged. Of course, it depends a lot on the kind of wedding you want and how much time there is between your engagement and your wedding. The average engagement length in Australia is 21 months. Under these circumstances, saving about 20% of your household income every month is a good start. Start by saving money in smaller ways. For instance start making your own cold brew coffee for a killer coffee at home that will taste better than what most cafes have on offer. The cost of eating out and takeaway can add up quickly. Start spending more romantic nights-in with your fiancé and start cooking dinner together.
4. Estimated guest count
The number of guests you invite is going to heavily influence your budget. It will need to decide how accommodating your venue should be for alcohol and food. Are you going to pay for a open bar? Or are your guests going pay for drinks? Food and drinks are the one of biggest expenses when throwing a wedding. There are other smaller things, like furniture rental, invitations, and cake slices for each guest. For a average wedding each guest will cost around $200. If you start going over budget, cutting down on the guest list strategically is the most effective route to take.
5. Research!
Research all the cost involved in a wedding. Costs like the cake cutting fee. When you order a wedding cake you don't just buy the cake, there is also a cutting fee to be paid to the wedding venue. This is just the beginning of the hidden costs. These are the things that can cause an unprecedented rise in the wedding budget, but they can't surprise you if you already know about them.
Another thing to keep in mind is the time of year and area you are getting married in.
6. No debt, please!
How can a healthy marriage possibly begin by going into debt before it has started? Going into debt this early into your relationship is a big kick to your financial butt. It is undeniably a big significant day, but there is whole life after that day that you need to live. Sometimes it's unavoidable due to unforeseen costs, so be careful with how you use your credit cards up to the lead up to the wedding.
Decide On Date And Time For The Wedding
Deciding a date for your wedding a monstrous task and this is the reason why everyone asks, "Have you decided on a date?". It's not as easy as just deciding that you like a particular date and so you will go ahead with it. Some other factors involved are:
1. Venue
You or your fiancé might have dreamed of getting married in a particular place that means the world to you. So, if the place is not available on a particular date. The best thing to do move wedding to the next available date. Wedding venues tend to get booked several weeks and months in advance, and there is nothing really that you can do about it.
2. Length of your engagement
Long or short engagement? There are pros and cons to both, a short two month engagement will make it feel like the world is coming to an end because you haven't even decided on the colour of napkins yet, and two years will make you wonder if the wedding is ever going to happen.
3. Seasons
You may have your own preferences here. When dreaming of the wedding day, did you think there is only one particular season in which your magical day will actually feel magical. Like colours of autumn, or under the warm Queensland sun on a clear spring day? In Brisbane spring followed closely behind by autumn are the most popular wedding seasons. Each season has its advantages and drawbacks, and only you will know which one will be the best fit for style and mood you are going for.
4. Keep other events in mind
Although your wedding is going to be the one biggest days of your life. Your other friends and family maybe getting married and you might want to consider if you want to get married before or after them. Or maybe your cousin is getting married too and because she lives Brisbane, the whole family is going to be flying in for that. Then you can decide to have your day around her date so that the entire family does not have to fly in again.
Major holidays can be picked as the wedding date, but this is a date you will be celebrating for the rest of your lives. Do you really want to share the celebration with other special day? Moreover, the prices go extremely high when its holidays, and will your guests really be able to take time out and celebrate you when they could be in-home celebrating themselves?
5. Too much advice
It's a big day for you and your fiancé and you want to include your family. That's understandable. But once you come to a decision, do not keep asking for advice or opinion. It is going to undermine your confidence and lead to nothing.
Wedding Dress Styles
Your wedding dress is going to be the most memorable dress of your life, which you are going to wear only once and are hoping to look your best in. After all, that's the dream! But you have to take your time and be a little practical when you pick out a dress. Just deciding that you want a dress and then buying it will only make things difficult for you.
There Are 6 Main Styles Of Wedding Dress Styles.
The Empire Line
Empire style is defined by the high waistline which raised just below the bust from which the rest of the dress flows down
The A-Line
The A-Line is fitted waist and flows out to the ground with an unbroken straight line in a shape of an capital letter A.
The Ballgown
The Ballgown like the A-Line is fitted to your waist but has a super dramatic skirt. This style of dress is great a creating a hourglass figure if you have the height to balance out the size and width of the skirt.
The Trumpet
The trumpet hugs the body and when it reaches just below the hips the skirt flares out creating a trumpet-like silhouette.
The Sheath
The sheath hugs the body very closely head-to-toe. Best worn by petite brides since the elongating nature of the dress help to make wearer look taller.
The Mermaid
The mermaid is very similar to the trumpet. So much so the two terms are often used interchangeably. The mermaid hugs the body and the skirt flares out just below the knees. The mermaid is usually harder to move around due to the flare only starting below the knees.
Finding The Dream Dress
1. The venue
If you know when and where you are getting married, it will significantly narrow down your search for a dress. A beach wedding will mean no long trains or ball gowns. If you pick a cathedral, you might want to rule out something that looks like it could also be worn at a cocktail party.
2. The budget
Decide on a budget and specifically state it to the salesperson before they start to show you dresses. This way you will not fall in love with something you cannot afford. Add to this the cost of alteration, shipping and handling.
3. Starting early
Typical wedding dress takes designer anywhere around 3-6 months to complete. Add to this two months of alterations. Thus, you should ideally start shopping for a dress 9 months before the wedding. More elaborate gowns can take a longer time. There maybe designers who are ready to rush through all this for some extra money or gowns that can be bought off the rack, but that is going to limit your options.
4. Research
It's complicated, but you need to learn about the different shades of white and the various materials that are available for you to choose from. This way you will find a better way to convey what you want. Starting Pinterest board for this is a great beginning.
5. Take your closest friends
Try to avoid taking too many people with you have looking for a dress, as they will all have their own opinions and you might hard land on a single dress. It could just lead to confusions and fights. So just a couple of people, who are closest to you and understand what you want. They should have the heart to break it to you when you think you look good in a dress but actually don't.
6. Stay flexible
If you do go to the boutique with a particular style in mind, try not resist the salesperson's attempts to show you something else. They are professionals and they live and breathe wedding dresses. They know what will suit you best. Don't stay fixated on particular style, but also don't buy a dress you haven't fall in love with first.
Bridal Lingerie Styles and Inspiration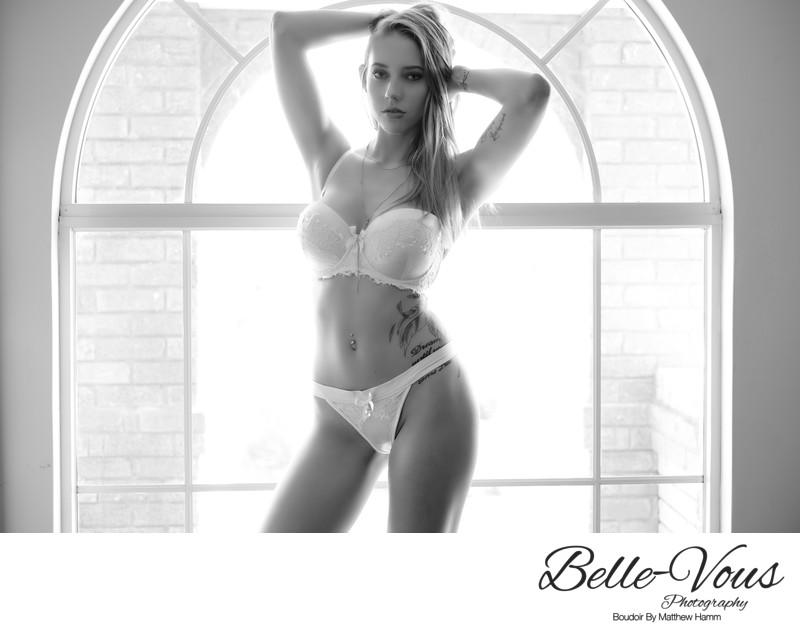 Victoria's Secret is one of the biggest names in lingerie and they sure as hell know how to do a good job designing lingerie, but there are other smaller brands that are selling lingerie that is just as sexy, if not more. The following are some brands that will offer you some stunning bridal lingerie inspiration.
1. For Love & Lemons
For Love & Lemons design pieces that are beautiful but also awfully sexy and stylish. So much so, that you'd regret having to keep them to just the bedroom. If you can build up the courage and confidence to pull these off on your wedding, it will be something truly unique.
2. Twigs & Honey
If you are looking for some really delicate, sweet and pretty lingerie that gives off a vintage feel, then the intimates collection from Twigs & Honey has just what you need. They have the sweetest bows, softest lace and adds some more lustre to the coy side of you.
3. BHLDN
This one is a bridal favourite. Their lingerie collection is seductive, elegant and flattering. Whether you fall in the curvy side or the petite side, they have a range of styles full of pants, bras, corsets, robes, teddies and silk aesthetic and understated chic lace, which is their signature stuff.
4. Fleur De Mal
Something for the sexy side of you, Fleur Du Mal offers you something really special to wear on your wedding day. They will have something that's different and sets you apart. They also have other beautiful pieces that complement every body type.
5.Honey Birdette
Honey Birdette is the place to go if you want to light a bonfire under his collar. Honey Birdette is the one stop shop for array of exquisite knickers, lingerie sets, intimate toys and other fun stuff
6. Agent Provocateur
A list of lingerie brand is complete only after Agent Provocateur is added to it. The brand is iconic and known all over for its lingerie that is unapologetically sexy. If you already know what you want, and if that is the red-hot look complete with suspender and corsets, Agent Provocateur is the place you should go to and nowhere else.
Other Wedding Vendors
A few things to think about when chatting with vendors
Vendors are another important part of your wedding day. They take care of the basics and they are experts at what they do!
1. Be nice
This would be a no brainer really. I understand planning a wedding can be stressful but try not to take it out on professionals trying their best to make you dream come true. You can trust them because they've seen it all a hundred times before.
2. Don't be afraid to ask
If you have any doubts don't be afraid to ask. Even if it brain dead simple question, it's best to be 110% sure about everything.
3. Food
No, I am not talking about food for you and your guests. There is another group of people you need to feed. The wedding crew (photographers, videographers, DJ, etc) needs to be fed too, and your caterer needs to know that beforehand.
Different Types Of Wedding Venues
You need to know the kind of venue you want for your wedding. It is the place that is going to sit in your mind for the rest of your life. It's also the place that the next chapter of your life begins.
1. Outdoors
If the season is right, you barely need any decorations to make your day beautiful. The sun, the flowers, the vast expanse of land are enough decorations. Some couples prefer a golf course, some prefer tent weddings, and so on. This gives them a blank canvas to work with, and they can design everything exactly as they want. Around Brisbane we have the lovely beaches around Redcliffe. If you are looking for beautiful green scenery just head a few kilometres west of Brisbane. You will no doubt find beautiful scenery in the hills to the west.
But, what if the weather decides to act up, there is nothing that you can do. It is advisable to have decided on a backup when you have your heart set on an outdoor wedding. Tents weddings are aesthetically beautiful but also very expensive as you are paying for not the venue, the furniture, but also the tents. Moreover, there is no air conditioning. When temperature changes, the most you can do is remove jacket and stand in front a fan.
2. Hotels
Hotels offer you staff that has been trained to entertain guests and make them comfortable. They have plans and strategies for dealing with large groups of people, with even more experienced people leading them. In the price you pay them, you do not have to separately pay for renting out furniture and dishes and you can have your guests stay in the hotel itself. Various hotels, when booked for weddings, also offer wedding packages that are great deals with a free honeymoon stay for the couple.
However, sometimes hotels can be fixed in their ways, refusing to move furniture and forcing you to use their vendors. There are also hidden costs that you'll have to pay for later on because there is the cake cutting fees, the valet, etc, who all need to be paid too.
3. Restaurant
Fine-dining establishments offer extraordinary food and service. Turning a raw space into what you want it to be can be a huge blow to your budget. A restaurant takes care of that for you and provides good service. There is minimal rental fee involved as restaurants already have their own tables, chairs and other serving materials, making it a cheaper option than booking a banquet.
At the same time, it will restrict the space you have. You cannot dance through the night here as restaurants do not generally have space for it. Nor are they designed for grand entrances and other things a bride may want. And if you have to buyout the restaurant your costs are going to go through the roof.
4. Destination
A change of scenery, in a romantic location, will be exciting for you and for your guests. It is favoured by many brides. However, romantic location could mean extra expenses for the guests, as they will have to pay for airfare, accommodations, car rentals etc. You will have to constantly be their tour guide, as they will trust you to know the best places they can visit while they are there. This also makes you vulnerable to vendors who you've may never met in-person.
5. At Home
A home wedding is a beautiful experience in itself. It provides you with privacy and warmth like nothing else. Being an extremely personal experience, it can take you back to your childhood, and give you a sense of sharing your past with the person you wish to spend your future with. It also means that no external factors contribute to the date you select because no one else is going to be rushing for this venue and it will reduce the cost of alcohol and food.
This might mean a hike in the rental prices as you will be bringing in everything on your own, and lastly, the clean-up alone is going to be a long a tedious task.
When to book a photographer
You should start looking for a wedding photographer some ten months before the final date, and by the time it is 9 months to your wedding, you should have the photographer finalised and signed. This is a time by which you should have already picked out your theme, venue, colour scheme, have a basic timeline for the day of the wedding and have an idea about what the guest list is going to look like.
The photographer you pick will find this information useful, as they can assess what places have the best lighting and what angles they can take photographs from. If you are a few steps ahead and book even earlier, there is nothing wrong with that too. The earlier, the better!
As the photographer plans out everything with every couple he works for, he gets an idea of the shots that he should work through before the wedding day itself. This will include your first dance, family portraits, etc. Capturing the really important moments is his job and most photographers check up with you several times to make sure they get a sense of the kind of photographs you want.
What Is The Best Wedding Gift To Give Your Partner

What are you planning to give your husband as your wedding present? Watches and cuff-links are good gift options, but they are boring and after the wedding will spend most of their time forgotten in a dresser draw. If you have managed to find the best partner spend the the rest of your life with, then shouldn't this special person have a gift that is equally special? The gift I'm suggesting involves lace and fabric, but a lot less than what goes into a wedding gown.
If you haven't figured it out yet I'm talking about bridal boudoir photography. Imagine the look on their face when they first start to flip through a photo album full a beautiful photo of yourself. After all, the main thrill of this gift is watching his unsuspecting face upon opening the book and realising what is inside. This will make one hell of a memorable moment.
If you are thinking of giving boudoir photos as your wedding gift to your partner, there are a few little thing to think about beforehand
Cover Story
Boudoir photo session can be an all day affair. You need to come up with an excuse for being gone all day and coming back home with a glam makeover.
Gift for yourself
Most women I have photographed say that a boudoir session is empowering and liberating, something you'll want to tell others about. He will understand the significance of this. The photos are not just for him, but for you as well. But that will also makes it really hard to keep it a secret for until the wedding.
How To Give Them To Him
I suggested to give your groom with the pictures just before you walk down the aisle. Or give them to him when you are saying your goodbyes, as most brides and grooms spend the night before the wedding away from each other.

The photographer you choose can make a world of difference. It needs to be someone you can place your complete trust in and has past experience in this field. This will mean that they will know how to make you feel comfortable and make sure that you are relaxed, having fun and look the best that you possibly can. You can also take some of your girlfriends with you so that they can help you stay calm and have fun.

Boudoir photos look sexy and classy. It is not the kind of sleazy photo shoot that makes you question your life choices. It's empowering and makes you look and feel sensational. You don't necessarily have to strip down to nothing to look sensational. A more modest look will also do it just as well. Everything is completely dependent on your comfort level. Your photographer will help you through it all, suggesting the style, mood, moving the lighting around and how it should fall on you, the poses and the angles. These will making you feel like a supermodel, but the choice at the end of the day will always be yours. You will never be told to do something that you are not comfortable doing.

Location: Belle-Vous Photography - Boudoir Photography Brisbane - 4 Fryer Close Bellbowrie QLD 4070.

Keywords: Bras N Things (49).






---
Brisbane Boudoir Photographer | Copyright © 2021 Matthew Hamm | Belle-Vous Photography | All rights reserved | 0458 187 007 | info@bellevousphoto.com
4 Fryer Close Bellbowrie Brisbane
Brisbane | Sunshine Coast | Gold Coast | Toowoomba | Ipswich | QLD Australia
Privacy Policy | Safe Space Policy | Terms and Conditions | Feedback