Photographer Matthew Hamm
I am a Brisbane photographer specialising in boudoir photography, bride portraits, glamour photography, and female portraits.
Boudoir Photographer Based In Brisbane, Australia
---
About Me:

I'm Matthew, I've shot over 200 boudoir and glamour session in my career and here are a few bits about me...

Proudest Moments:

Having my photos published and winning photography competitions. Having one of my client's cry tears of joy after see her photos for the first time.




Location:

West Brisbane but I travel to the Gold Coast and Sunshine Coast very regularly. I also travel internationally usually once a year.

Hobbies:

I'm lucky my job is also one of my main hobby's. I also love cooking and the typical male thing... playing video games.

Favourite Part Of Being A Photographer:

Meeting new people. I love hearing more about people and capturing all the laughter and emotions.

Favourite Meals To Make:

Burgers from scratch.
New York style pizza from scratch.





Favourite Place To Chill:

Sleeping in and relaxing in bed on a Sunday morning.

Favourite Drink:

Cold press latte made with almond or coconut milk.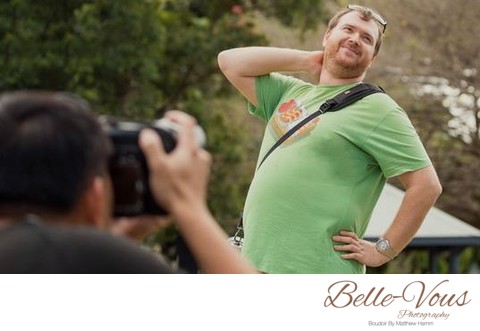 This is me. I like to pretend I'm a model. 💃🤣
Hi There I'm a photographer and business owner. I am the founder of Belle-Vous Photography. As your boudoir photographer, I will take the best photos of you that you will ever have.
I specialise in boudoir photography for women who want classy, intimate boudoir photos that won't seem cliché in 30 years from. My boudoir photos will also make a special gift for your partner.
My photographic approach is relaxed while also being able to tell a story using raw natural emotions. This means I'll capture astounding photos that you will cherish forever.
I'm an AIBP distinguished member.
Boudoir photography is my passion; It is the most rewarding thing I do! I love making people feel beautiful. That's where the name Belle-Vous Photography comes from. It's French for Beautiful You. I picked a French word because my family name "Hamm" has its origins in France. Sounds weird right, because it's very German sounding name. The family name originates from Alsace Lorraine, France. which is right on the border with Germany.
When I am not running a successful small business, I'm usually playing with my goofball dog, Samson! If you're lucky, you might get to meet him during your boudoir photo shoot.

This is Samson my endlessly happy goof-ball dog
---
21 Random Facts About Your Boudoir Photographer
I love learning about the women I photograph. It really helps me make your boudoir experience one of a kind and tailored just to you. It only seems fair you also learn a bit about me as well.
1. I was born in Traralgon, Victoria and I moved up to Queensland with my parents when I was 8.
2. I love animals! As Long as I can remember I've always had pets. Dogs, cats, birds, fish love them all!
3. Samson is the name of my goof-ball dog 🤪
4. I pretty much play every sport possible when growing up (AFL, soccer, netball, cricket and many more. (I was very bad at all of them 🤣)
5. One of my earliest memories is my Dad secretly buying a Nintendo while I was at playgroup. When I walked through the front door with my Mum and saw my Dad sitting on the coffee table playing Duck Hunt on Nintendo Entertainment System I freak out because we now had a the Nintendo!
6. I love collecting old cameras At last count I have over 40 cameras
7. My oldest camera is a Kodak from 1910.
8. I'm a only child
9. Before I was a boudoir photographer I was making ends meet being a waiter for wedding receptions.
10. I was a waiter for wedding receptions during the gangnam style craze. I must have heard that song, the remixes and mash-ups over 1000 times 🤦‍♂️
11. My first paying photography gig was family portrait session for friends of the family 👨‍👩‍👧‍👦
12. I gave up learning to play the guitar after learning to play only one song. Paint It, Black by The Rolling Stones 🤘
13. Vegemite is the best! I can eat it by the spoonful.
14. I've never had a hangover. My friends were never impressed at all when I woke up the next morning feeling like million bucks.
15. I waited in line for over 6 hours to buy a iPad 2 back in 2011 🤓
16. Sometime I feel like I might be a vampire since I can get sunburnt in just minutes ☀
17. I'm a bit of a coffee snob.
18. I have bought so much stuff from Ikea over the years.
19. The only food I don't like is seafood.
20. I had bad anxiety and confidence issues in my teens and 20s.
21. I became a boudoir photographer so I could use this skill I had to help others boost their confidence levels

---
Brisbane Boudoir Photographer | Copyright © 2020 Matthew Hamm | Belle-Vous Photography | All rights reserved | 0458 187 007 | info@bellevousphoto.com
4 Fryer Close Bellbowrie Brisbane
Brisbane | Sunshine Coast | Gold Coast | Toowoomba | Ipswich | QLD Australia